Memories will unfold at YAFWC fundraiser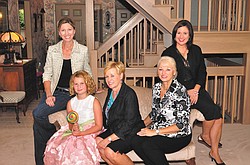 Photo
Helping with an annual Youngstown Area Federation of Women's Clubs fundraiser are, left to right, Tamara Sigler, Ava Wilson, Barbara Geller, Suzanne Brown and Leah Wilson. The luncheon event, to benefit Youngstown State University scholarships, will begin at 11:30 a.m. Oct. 16 at the Holiday Inn in Boardman.
Staff report
BOARDMAN
The annual Youngstown State University scholarship fundraiser, planned for Oct. 16 and hosted by The Youngstown Area Federation of Women's Clubs, will feature "Memories" as its theme.
The luncheon will begin at 11:30 a.m. at the Holiday Inn, 7410 South Ave.
Guests will be treated to a "trip down Memory Lane," and Jim McClellan and Liz Rubino, accompanied by Jack Ciarniello, will entertain them.
Talbot's Classic Fashions and Toula's Formal Wear for the Young and Old will present a style show.
Tickets, which cost $35, may be purchased by calling Barbara Geller, event co-chair, at 330-758-0429. Reservations are requested by Oct. 7. For the best seating, reserve early.
Other committee members are Barbara Higgins, chair; Lee Bowden, co-chair; Diane Mastro-Nard; Marilyn Weaver; and Valorie Zurawick.