Family dinner honors Kohuths at 50th milestone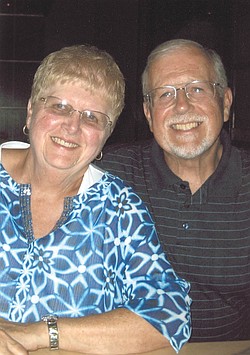 Photo
Mr. and Mrs. William Kohuth
YOUNGSTOWN
Mr. and Mrs. William Kohuth of Youngstown celebrated their golden anniversary with a family dinner Aug. 24 at Caf 422 in Boardman.
Their children are William and Kris Kohuth and Brian and Laurie Kohuth, all of Boardman. They also have four grandchildren.
The former Shirley Murphy and Mr. Kohuth were married Aug. 24, 1963, at St. Christine Church.
Mrs. Kohuth is secretary for the Hungarian Presbyterian Church, where the couple are members.
She also is a member of Fem Bombers Golf League and Presbyterian Women.
Mr. Kohuth worked for Ameritech and retired in 2000.
He is a member of Ameritech Traveling Golf League and is a U.S. Navy veteran.