A Mass, dinner and party honor Sopkos' 50th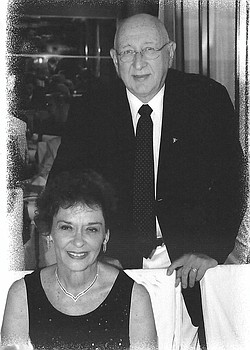 Photo
Mr. and Mrs. Robert Sopko
NEW CASTLE, PA.
A Mass on Sept. 28 at St. Camillus Church was a highlight of celebrations honoring Robert and Marda Sopko of New Castle for their 50th wedding anniversary.
The couple's children and grandchildren hosted a dinner that day at the Four Brothers Restaurant, and Ronnie and Joyce Tofil hosted a surprise party Sept. 16 at their home.
The Sopkos' children are Roberta Daniel of Hollister, Calif.; Michael Sopko of New Castle; and Stephanie Merritt of Cranberry, Pa. They have seven grandchildren.
The Sopkos were married Sept. 28, 1963, at St. Charles Church in Boardman. They are members of St. Camillus, where they belong to the church choir.
Mrs. Sopko, the former Marda Sebastian, worked for the Ohio Youth Advocate Program in Boardman, and for Dr. Kelly Palumbo, Ob-Gyn, where she was the office manager and receptionist. She retired in 2000. She is a member of the Junior Guild at Jameson Memorial Hospital and Y-Zone, and was a member of Sweet Adelines International.
Mr. Sopko worked as a cost estimator for American Welding and Manufacturing in Warren and as a paraprofessional for Austintown Schools. He is a member of the Knights of Columbus, Y-Zone and O'Fallon Photo Club. A U.S. Army veteran, Mr. Sopko served from 1956 to 1958.