Under Obamacare, Ohio still waits for a Medicaid expansion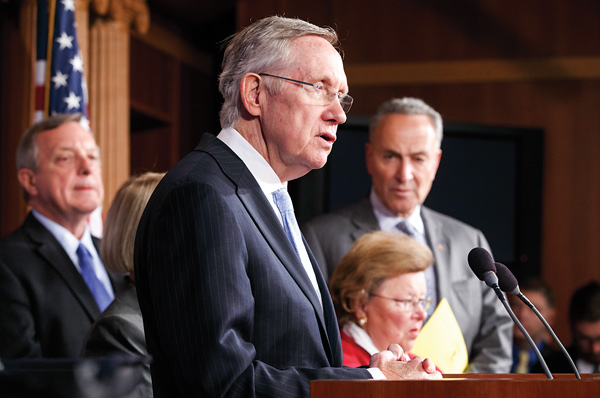 ---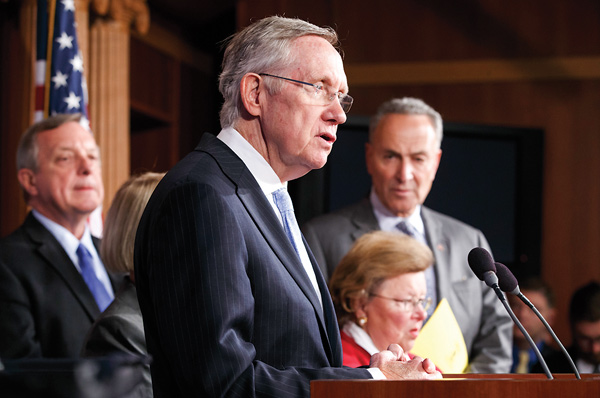 Photo
Senate Majority Leader Harry Reid of Nevada speaks at a news conference Thursday to blame conservative Republicans for holding up a stopgap spending bill over their opposition to Obamacare.
RELATED: Mahoning Valley doctors say confusion reigns with ACA
YOUNGSTOWN
As the landmark Affordable Care Act inches closer to becoming a reality in 2014 —when most of it takes effect — hundreds of thousands of Ohioans could find themselves without coverage.
At least it seems that way for now.
Medicaid expansion is considered a linchpin of the health-care overhaul. Doing so, proponents of the law say, will extend coverage to nearly a quarter of all uninsured Americans.
Previously, the Affordable Care Act required states to cover their poorest or lose federal funding under the joint state and federal program that currently provides health care for more than 60 million low-income Americans — most of them children, the disabled and the aging — or the primary portion of the population the law was crafted to help the most.
But last year, when the U.S. Supreme Court upheld the law's core provision that most Americans must purchase health care or face a penalty, it also overturned the requirement that states must expand Medicaid coverage, giving each the freedom to determine whether it wants to opt out of such an expansion.
Thus far, 20 state legislatures have voted to expand their Medicaid coverage, while another 16 have explicitly voted not to participate, according to the Kaiser Foundation, a nonprofit focused on health-care policy issues in the U.S.
The remaining states are considering joining, not joining or pursuing other alternatives, including Ohio, which is said to be leaning toward an expansion that, at the moment, remains a topic of fierce debate and uncertainty among lawmakers and policy experts here.
Why Medicaid?
President Barack Obama signed the ACA in March 2010. Most notably, it will require nearly all Americans to purchase health insurance or pay a fine beginning in 2014. The so-called individual mandate is expected to provide coverage to 30 million uninsured people nationwide, or 9 in 10 Americans.
As originally enacted, before the Supreme Court overruled the provision, the ACA required states to expand Medicaid coverage to people with incomes up to 138 percent of the federal poverty level, or about $15,586 for an individual and $32,499 for a family of four.
People who do not meet the income eligibility requirements under the original rules of an expansion, or those who earn more than the poverty level, will be eligible for subsidies and able to acquire lower-cost health insurance on exchanges under the new law.
As the law was written, however, it bars those making less than 100 percent of the federal poverty level — $23,550 for a family of four — from obtaining insurance subsidies on the exchanges.
Without access to subsidies — the law's only other primary mode of extending low-cost coverage to millions and without the prospect of a Medicaid expansion — an estimated 7 million adults nationwide, according to the Urban Institute, will not receive coverage or help from the federal government.
Medicaid was enacted in 1965 through amendments to the Social Security Act of 1935. Unlike Medicare, which serves Americans age 65 and older, Medicaid serves people with low incomes who can't afford health care on their own.
Under the current cost-sharing mechanism, the federal government picks up about 60 percent of Medicaid coverage costs, while state governments pick up about 40 percent.
Under Obamacare, the federal government will pay 100 percent of the program costs from 2014 through 2016 and then gradually assume a lower portion of those health-care payments until 2020, or so, when it assumes 90 percent and the states assume 10 percent.
Republican Gov. John Kasich wants to take those additional federal dollars and use them for a full Medicaid expansion to cover 275,000 Ohioans that would be newly eligible.
Free money, what's the problem?
"It's a deeply problematic issue, almost a Faustian bargain where we get everything up front with no problems and then we'll be on the hook for 10 percent in perpetuity," said Greg Lawson, a policy expert at the conservative Buckeye Institute, which opposes a Medicaid expansion and implementation of the broader law.
"We have never, in Ohio's history, ever decided to cover this particular population — the 275,000 that the [Kasich] administration uses is basically the newly eligible people — never mind the people who could drop private coverage and be dumped into [Medicaid]. It could go way higher than 275,000."
Indeed, estimates on nearly every aspect of the Medicaid expansion vary widely depending on which organization or government entity is analyzing the numbers.
In 2010, according to the latest data available from The Centers for Medicare & Medicaid Services, 2.4 million people in Ohio were enrolled in Medicaid. Medicaid payments were $15 billion, with the federal government paying 73 percent and the state paying 27 percent.
If Medicaid is expanded, the number of those who could join in the Youngstown-Warren-Boardman Metropolitan Statistical Area, which encompasses Mahoning and Trumbull counties, as well as Mercer County in Pennsylvania, would go from 79,000 to 106,000, according to estimates from the Urban Institute based on a report for the Kaiser Commission on Medicaid.
By the same estimates, Ohio would add 666,000 people.
But that is a crucial step in the right direction, says Wendy Patton, a senior project director for Policy Matters Ohio, a liberal think-tank that has conducted studies on health care reform.
"Medicaid expansion is critical to getting everybody healthy and achieving the savings of the Affordable Care Act," she said. "It's about bending the costs of care across the board. We can treat people before they go to the emergency room and bring the curve back down with an expansion. The most-important part of this issue is human lives, and that can't be overlooked either."
By the numbers
To be sure, Medicaid enrollment and costs are growing nationwide, regardless of any expansion. And along with Medicare, the safety-net programs have proven to be a drain on federal and state budgets for years now, accounting for a large portion of government spending.
By its own current estimate, the nonpartisan Health Policy Institute of Ohio says Medicaid represents about 25 percent of Ohio's general-revenue fund — a number that balloons to 45 percent when federal matching dollars for Medicaid spending are included.
The general-revenue fund is the state's largest, from which all major state agencies receive financing. It is available for any public expenditure under the state Legislature's discretion.
A joint study from the Health Policy Institute, Ohio State University and an economic research firm found that by expanding Medicaid, state costs would increase by as much as $2.5 billion between 2014 and 2022.
Amy Rohling-McGee, president of the Health Policy Institute, said that based on the same analysis, after taking into account those costs, the savings achieved with higher federal matching rates and the replacement of non-Medicaid spending with federal Medicaid dollars and the revenue it generates, the state's net gain would be between $1.8 billion and $1.9 billion over the nine year period.
Still, a Medicaid expansion remains a daunting concept for many, including medical professionals.
On the fence or unconvinced
"We really don't have a position; nobody knows enough about what's going to happen to jump one way or another," said Karyn Frederick, executive director of the Mahoning Valley Medical Society, which represents nearly 500 practicing physicians in Mahoning County. "Something needs to be done; nobody is sure exactly what that is yet."
Although a Medicaid expansion has enjoyed limited support from Democrats, a handful of Republicans, business groups, doctors and hospitals, Frederick said a major concern remains about the shortage of primary-care physicians available to handle more patients under a broad expansion.
"Where are you going to find doctors to treat people? We already have a shortage, and my pool of doctors is shrinking here," she said, pointing out that the problem is a serious one in Mahoning County.
For Lawson, of the conservative Buckeye Institute, an expansion threatens the state's economy. He also wonders how firm the federal government's long-run commitment is to the 90 percent Medicaid matching rate under health-care reform, saying it could be disastrous for the state budget if Congress were to reduce federal funding at a later date after Ohio has expanded its Medicaid roster.
Democratic State Sen. Capri Cafaro of Liberty, D-32nd, who also serves as a member of the Senate's Medicaid Finance Subcommittee, said there have been numerous pieces of legislation and policy suggestions floated in the general assembly that would address such concerns.
Cafaro introduced a bill in July that would expand the state's coverage and cap the growth of Medicaid spending at 3.5 percent so that it does not exceed the current rate of inflation on health-care spending. Any money saved could be dedicated to heading off cost increases, while the bill would also implement policy measures aimed at holding both providers and patients accountable to help reduce long-term costs.
Under her bill, Medicaid reimbursements could be linked to a provider's performance depending on hospital re-admission rates, for example. The legislation would also establish a legislative oversight body to monitor Medicaid policies and practices and identify ways to coordinate and link Medicaid beneficiaries to employment opportunities that could improve their economic outlook.
What's next?
It's been widely reported the state Legislature will strongly consider Medicaid expansion next month, but Cafaro said that's not entirely set in stone, and many other sources remain skeptical about an expansion anytime in the near future.
Rob Nichols, spokesman for Kasich, said the administration has been told lawmakers will take up an expansion soon, and Kasich's office "has no reason to believe they won't."
For now, though, Nichols said the administration is "proceeding under the impression that it will be expanded," and he added that "we will be prepared to implement that when it happens."