Little Falcons take on Little Spartans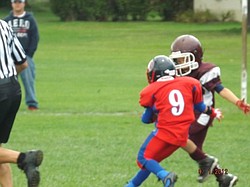 Photo
Neighbors | Submitted.The Austintown Little Falcons played the Boardman Little Spartans Sept. 21.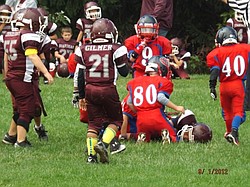 Photo
Neighbors | Submitted.The 100 pound Austintown Little Falcons were defeated by the Boardman Little Spartans 14-12 on Sept. 21.
Austintown Little Falcons played the Boardman Little Spartans Sept. 21 at Boardman.
The 100 pound Spartans toppled the 14-12 Falcons, but the Falcons learned a valuable lesson in their close loss to Boardman: the importance of the Point After Touchdown (P.A.T.) conversion plays. Boardman scored two touchdowns and the Falcons scored two touchdowns as well, but the Spartans converted on a P.A.T. play and the Falcons did not. The Falcons suffered their first loss of the season falling to 4-1, while the Spartans raised their record to 4-1. Boardman tied up the contest 12-12 with less than four minutes left and was successful on the conversion play which provided the winning two points. The Falcons final drive ended at the Spartan 20-yard line as the defense stiffened and the clock ran out on the Falcons. Reuben Traylor Jr. and Terrance Pankey both scored on touchdown runs while Cameron Smith, Sammy Savo, Angelo Sauceman, Donovan Hileman, Aiden St. Clair and Joshua Sawyers all turned in outstanding play in the defeat.
The Spartans claimed victory again in the 12 pound game with a score of 36-0. It was a tough day for the Falcons as the Spartans used a second half scoring spree to break open a close contest and cruise to victory. The Falcons played tough physical football throughout the game, but their efforts did not show up on the scoreboard. John Edmonds, Myles Pasley, Erik Bedock, Dedric Dixon, Peyton Quarles and Ryan Gordon all played well for the Falcons.
The 140 pound Falcons claimed victory with a score of 6-0. Andrew Bretsik ran for a touchdown in the first quarter and the Falcons used a stout defense and a ball control offense to preserve their lead and run out the clock improving their record to 4-1. The Spartans dropped their first game of the season falling to 4-1. Daniel Ifft, Christopher Scott, Donovan Jones, Landon Edwards and Brett Wilson all played well in the Falcon victory.
The Falcons will journey to Hermitage, Pa. to take on the Hickory Hornets Sept. 29. Game time for the 100's is noon, followed by the 120's and then the 140's.