Divine Designs group crafts handmade cards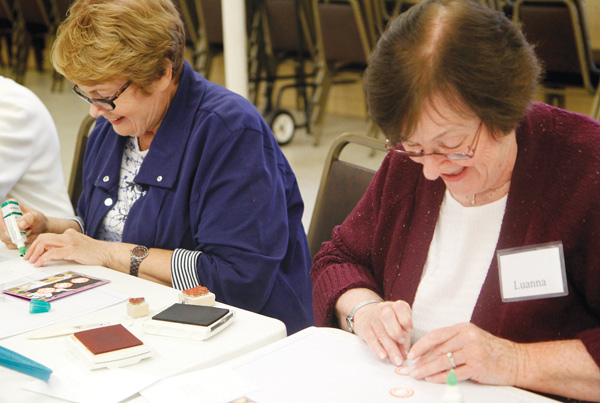 ---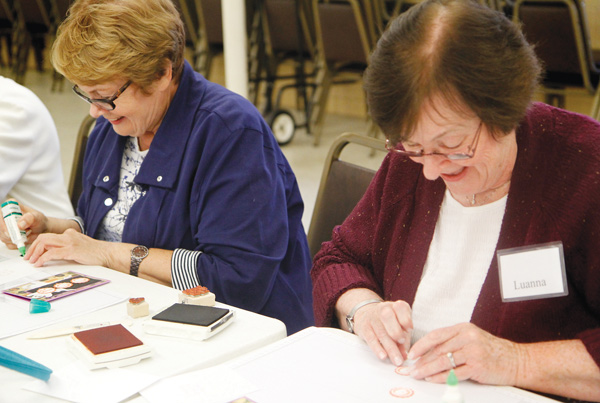 Photo
Regina Jenkins, left, and Luanna Jacobs smile and laugh as they craft handmade cards during a Divine Designs gathering at St. James Episcopal Church in Boardman. The sessions take place two Sundays a month.
By LINDA M. LINONIS
BOARDMAN
Divine Designs inspires partici- pants to be creative.
Sharyn Fees instructs the card makers who meet two Sundays a month at St. James Episcopal Church. Two groups gather at separate times in the afternoon in the church, which provides an uplifting setting.
She said the name was chosen "to reflect creativity and relate to the church setting."
Fees said the activity originated about three years ago with a core group of about seven scrapbookers. "Little by little, people got involved," she said. "It actually started as a way to do some community outreach."
Interest waned in scrapbooking but picked up for crafting handmade cards. Two groups of no more than eight people in each now meet at the church at 7640 Glenwood Ave. "To be able to teach and help people, that number is manageable," she said.
Of those who participate, about half are church members. Fees said word of mouth has publicized the activity as members have told family and friends about it. Ann Sitler, who has participated from the beginning, does so because "it's fun and creative."
In this digital age, some people have taken to sending electronic cards for all occasions. But Fees said she and class participants "like to create something" that will be a keepsake. "We all hope sending cards is not a dying practice," she said. "Sending a handmade card makes it extra special."
Sitler attested to that by noting a friend of hers saves the handmade cards she receives and has arranged them in a montage. "Friends have told me they can't wait to get a card from me," she said, adding she's been told the cards are keepsakes.
Sitler also makes the cards for her work in pastoral care; she sends them with get-well and "thinking of you" messages.
From her experience, Fees said recipients of the handmade cards "feel special" because the sender didn't "just go to the store and buy a card but took time to make it." Sitler said the cards are "homespun" and "extra special" because someone takes the time to make them.
Fees said she took a card-making class a few years ago. "I fell in love with stamping," she said of the Stampin' Up class. Stampin' Up is a product line of card-making and scrapbooking materials that offers supplies, digital designs, tools and ideas. She is a Stampin' Up demonstrator.
Fees said what participants like about the products is that "everything matches and coordinates." A solid-color card stock is used along with decorative or design papers with patterns, florals, stripes or polka dots. Sitler said the class has taught her how to combine colors.
In the classes, cards are made for the seasons, holidays, birthdays, thank-you's and other occasions. Different embellishments may be used; some participants vary from the example. For fall, accents might be leaves, acorns, pumpkins, cornstalks and so on. A recent session focused on a Halloween card with a spooky or cute design. Ghosts and spiders provided accents. Then, a rubber stamp is inked on a pad to add a message.
But because each person has a different take on a design, each person's creativity emerges. Fees explained one process uses embossing powder along with a heating element similar to a blow dryer. The process creates a raised image, which adds visual interest. Other techniques are used to achieve various effects.
Sitler said she customizes all her cards with a stamp of a red cardinal on the back. She acknowledged she's known as the "pearl queen" in class because she always finds a way to insert a pearl, her birthstone. On the Halloween card, she made the cute one and used a pearl on the teddy bear's bow. On birthday cards, she likes the stamp with the message, "live, love, laugh," and uses a pearl as the letter "O" in love.
For information on the activity, call Fees at the church, 330-758-2727. Participants pay $5 per class and make two cards.