Colts topple Little Bulldogs Sept. 22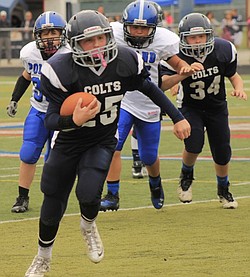 Photo
Neighbors | Submitted.AJ Winterburn (front) is pictured on a drive for a Colts touchdown at the 140 pound Colts game Sept. 22.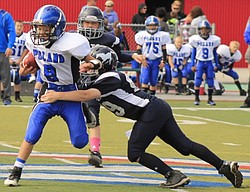 Photo
Neighbors | Submitted.Bryan Bellish (right), a Colts 120 pound player, is shown sacking the Bulldog quarterback for a loss at the game Sept. 22.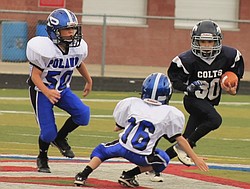 Photo
Neighbors | Submitted.Dylan Hunter (right), a 100 pound Colts player, is shown as he breaks a tackle for the Colts offense.
The Austintown Colts took on the Poland Little Bulldogs at Fitch Stadium Sept. 22.
The day started with the 100 pound team shutting out the dogs 22-0. Dominic Perry, Javonte Betts and Jayden Eley drove the field for multiple touchdowns and two point conversions, while Landen Bister and Xavier Amireh rocked the defense to hold the bulldogs scoreless. The 100 pound team improved it record to 3-2 for the season.
The 120 pound Colts remain undefeated through week five after beating the Poland Little Bulldogs 14-0. The offensive line, including Colin Roberts, Bryan Bellish, Garrett Hogan, Nico Terrigno, Brian Long, Robby Ankrum and Carl Farina, get full credit for making paths through the dogs defense to allow touchdowns by Donovan Oliver and Shakir Perkins. Stellar defense performances by Bryan Bellish and Michael Hileman led to quarterback sacks and multiple tackles that kept the Bulldogs scoreless.
The Austintown Colts 140 pound squad improved its record to 3-2 after beating the Poland Little Bulldogs 32-0. Outstanding offense and defensive plays by Dakota Edwards led to multiple touchdowns and conversions for the Colts. The Colts offense, including AJ Winterburn, Brennan Banko, Lorenzo Russo, Brian Ferguson, Noah O'Neil and Kris Scandy all contributed to the Colts victory, while Roddell Bebbs, Jacob Granger and Bryce Davis staved off the bulldogs defensively.