Mooney tightens up defense, tops Boardman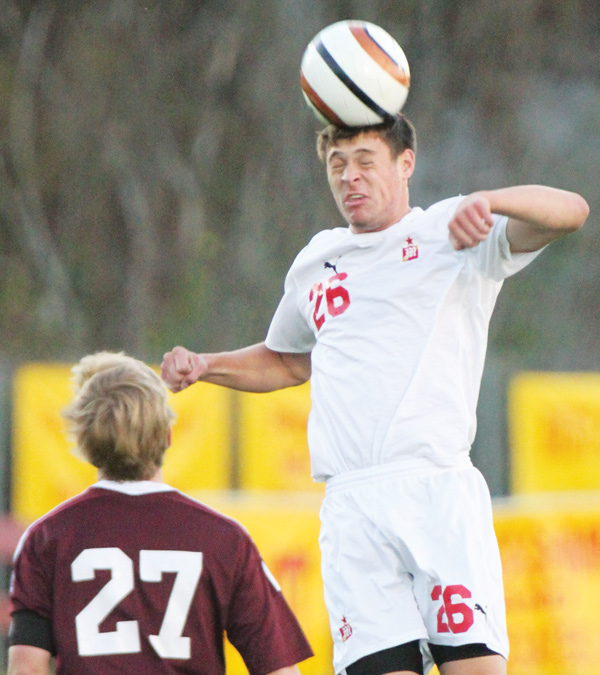 ---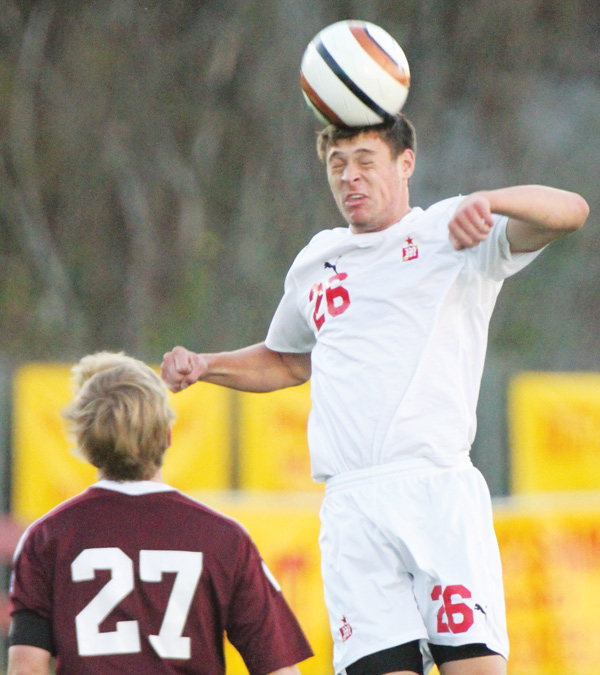 Photo
Mooney's Matt Perry (26) uses his head to keep the ball away from Boardman's Alex Thomas (27) during their match Thursday in Struthers. The Cardinals edged the Spartans, 3-2.
Better 'D' leads to victory
By Steve Wilaj
STRUTHERS
Coming off a great week of practice, the Mooney boys soccer team played some of its best offense in the first half against Boardman, scoring three early goals.
Problem is, head coach Lou Cali Jr. said, the Cardinals played some of their worst defense, allowing two Boardman scores.
"After coach chewed us out a little bit at halftime, we came out ready to defend," Mooney's Clayton Walker said.
The Cardinals did defend much better, blanking the Spartans in the second half to hold on to a 3-2 victory Thursday at James J. Simon Sr. Park in Struthers.
"We came out in the first half and did exactly what we wanted to do offensively," Cali said. "But our defense, which has played so well, probably had its worst half of the year. But second half I thought we took control of the game."
Walker said Mooney made some key halftime adjustments.
"We sit down at halftime and say a few things," he said. "We tightened up the spacing, got deeper, pressure covered a lot more and communicated out of the back."
Walker started the scoring, finding the back of the net in the 10th minute. Jake Payne's goal three minutes later put Mooney up 2-0.
The Spartans responded with an Andrew Gable goal at the 22:20 mark, before Walker's second goal of the half (36th minute) gave the Cardinals a 3-1 advantage.
"The first goal, the ball came on a crosser. Two of their defenders bobbled it and I just hit it in," Walker said. "The second goal I did a nice little scissor move right around them, dribbled through two — they bobbled it again — and I was right there to hit it in with my left."
Boardman cut the deficit to one on a goal from Fabio Bassil with 2:36 remaining in the first half, but that would be it.
Head coach Eric Simione said the Spartans missed some early second-half opportunities.
"When they're given to you, you have to take them," he said. "Sometimes when you get opportunities early in the game, you think it's gonna be like that all night. It's not, but we had our chances."
Mooney goalie Jeremy Billett made it tough on Boardman, collecting seven saves. Boardman goalkeeper Brian Fryda had a strong second half, finishing with 11 saves.
"It was tough playing from behind but we should be used to it — we've done it all year," Simione said. "You spot a team a lead then play well, but sometimes you just don't have enough to get back into it."
Playing a tough early schedule, Mooney improved to 4-5-2.
"Andrew Gable was a load for us," Cali said "We don't mark a lot of kids, but we did for him and he's only a sophomore. But it feels good to escape with this one."