61 Ohio dealers drive away new diesel Cruze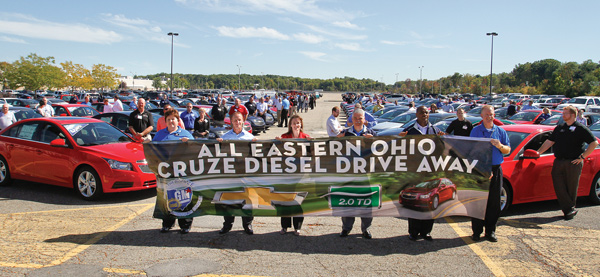 ---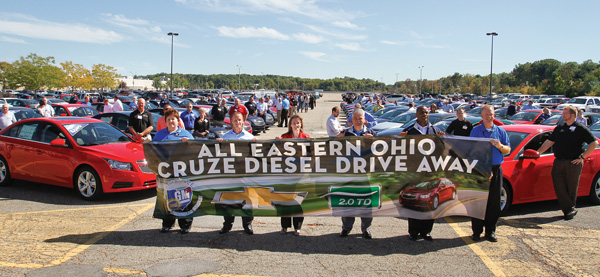 Photo
Representatives from 61 dealerships from throughout eastern Ohio gathered Thursday at the General Motors Lordstown Complex to drive off with new Chevrolet Cruze Clean Turbo Diesel cars, which the sprawling auto plant started to manufacture in April. The event marked the official rollout of the model.
By JAMISON COCKLIN
jcocklin@vindy.com
LORDSTOWN
GM Lordstown welcomed representatives from 61 dealerships throughout eastern Ohio on Thursday to officially launch the sale of the new Chevrolet Cruze Clean Turbo Diesel in the region.
Lordstown started producing the diesel Cruze in April, and it hit test markets in major cities across the country throughout the summer.
A select few dealerships in the Mahoning Valley and elsewhere in Ohio have received limited deliveries of the model since July or so.
Thursday, however, marked the official launch date in the region. The diesel Cruze is now available in every market that General Motors serves, said Cristi Landi, marketing director for small cars at GM, who traveled to Lordstown from Detroit for Thursday's ceremony.
About 100 representatives from those dealerships drove off with 61 diesel Cruzes on Thursday.
The diesel Cruze, expected to get 46 miles per gallon on the highway, will go head-to-head with Volkswagen's popular diesel Jettas and Passats in a segment of the domestic automotive market that saw clean-diesel sales increase by 25 percent last year.
It is the only domestically produced diesel passenger car in the U.S. auto market, and it's GM's first since 1986 when it sold the 1.8-liter Chevette.
The diesel Cruze will retail for about $25,695, compared with the regular Cruze, which sells for about $17,000.
Landi said the car has seen early success.
It comes nearly fully loaded with features unavailable in the base model, and its fuel efficiency and durability have thus far led consumers to "step up for the diesel" and pay more, Landi said.
In Texas, one dealer sold 10 diesel Cruzes with mailers alone, and a majority of those customers were trading in VW Jetta TDIs — that company's diesel model — she said.
Doug Petranic, sales manager at Doug Chevrolet in Akron, said Thursday that the model has generated a lot of interest at his dealership. One problem, though, has been the instability of deliveries. He added that would change after the launch Thursday when they would begin arriving on a regular basis.
GM has not yet published sales figures for the diesel Cruze and Landi said the company probably won't do so until next year, because it was released during the current model year and a manufacturing ramp-up is still taking place to meet early demand.
Lad Harrison , owner of Brothers Chevrolet in Wellington, about 40 miles southwest of Cleveland, got his first diesel Cruze at Lordstown on Thursday. He believes the model will do well in a rural market where his customers often have to drive 40 or 50 miles to work each day. Harrison said he had a couple coming to look at the car Thursday night.
Tom Brittain of Brittain Chevrolet in East Palestine, who had received just one diesel Cruze before Thursday's event, said the car likely will appeal not just to consumers interested in fuel efficiency, but those with a "desire for a sportier car." Brittain said he's heard rave reviews from test drivers about the model's handling, pick-up and quiet ride.
He added that the car's $25,000 price tag was reasonable and said its engine, suspension, torque and loaded features would help GM go up against Audi, BMW and Volkswagen.
Also Thursday, during a presentation for the dealers, the GM Foundation presented a $5,000 check to the Warren Family Mission — a nonprofit that provides food, shelter and rehabilitation services free of charge in Trumbull County and the surrounding area.

Known as a Plant City Grant, the foundation distributes such grants in all the communities it builds vehicles.

Tom Mock, plant communication manager at GM Lordstown, said Thursday's grant brings the facility's yearly allocation to $100,000. Donations made earlier this year went to the United Way and the Youngstown State University Foundation, among others.