Valley blacks bash Dem Chairman Dave Betras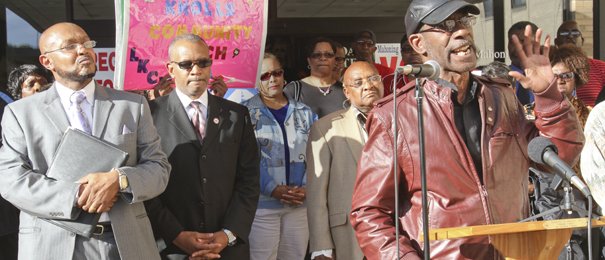 ---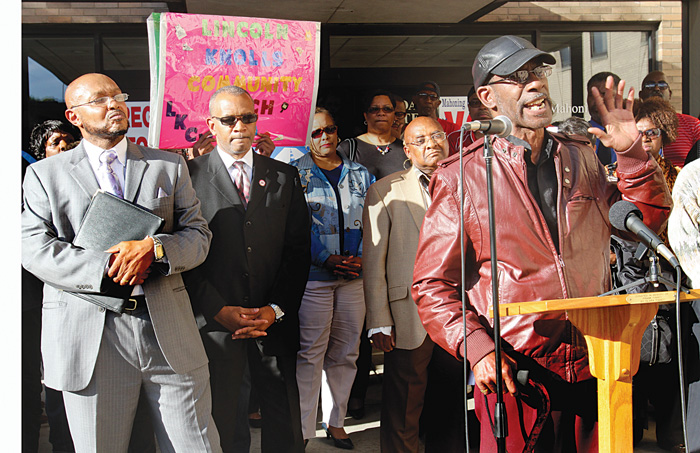 Photo
Steven Mickel, right, of the Youngstown NACCP speaks outside the Board of Elections at Oakhill Renaissance Place on the South Side during the rally. Others taking part in the event included, from left the Rev Kenneth Simon, New Bethel Baptist Church; Thomas Conley, of the Greater Warren- Youngstown Urban League and Gillam.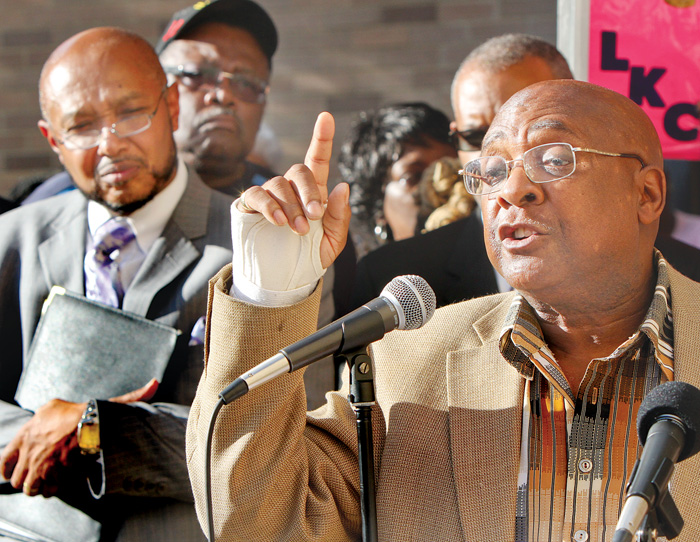 Photo
Artis Gillam speaks outside the Mahoning County Board of Elections 9-25-13 during a rally protesting County Dem party chrm Dave Betras' action concerning black party committee members. At left is Rev Kenneth Simon, New Bethel Baptist Church. Gillam a former city councilman and Dem party committee member was fired by Betras.
By DAVID SKOLNICK
skolnick@vindy.com
YOUNGSTOWN
Valley black leaders used harsh words against not only Mahoning County Democratic Chairman David Betras' decision to remove three African-Americans from the party's executive committee but how it was handled.
"It seems as though in the mind of [Betras that] we are still on the plantation and should be forced to do what he wants, and not what we believe is good for our community," said the Rev. Kenneth L. Simon, chairman of the Community Mobilization Coalition and an organizer of Wednesday's news conference.
The leaders, surrounded by about 100 supporters, sharply criticized Betras, who is white, for removing Councilwoman Annie Gillam, D-1st; her husband, Artis Gillam Sr.; and Councilman T.J. Rodgers, D-2nd; from the executive committee.
The three learned about their removal from an article in Friday's Vindicator.
The three were removed because they support DeMaine Kitchen, a black independent candidate for Youngstown mayor, and not John McNally IV, who is white and the Democratic candidate.
"The days of Kunta Kinte" are over, Artis Gillam Sr. said. "The master doesn't tell me what to do."
When told of the comments from the Rev. Mr. Simon and Gillam, Betras said: "This is not a race issue with me. Those are not worthy of a response. That's ridiculous. They're not going to race-bait me. You can say a lot about Dave Betras, but I'm not a racist. That's insulting and not worthy of a response."
Betras also is moving ahead with removing Artis Gillam Sr. as the city's 1st Ward district leader, which can be done by a majority vote of the party's officers, and has called for Jaladah Aslam, the party's vice chairwoman of labor relations, who is black, to resign because she doesn't publicly support McNally. Aslam refuses to resign, and Gillam said he isn't interested in being involved in the party if Betras is chairman.
Betras is receiving support from Ohio Democratic Chairman Chris Redfern, who is white, and former state Rep. Sylvester D. Patton, who is black and the county party's vice chairman of minority affairs.
"Chairman David Betras is among the most talented and dedicated party leaders in the country," Redfern said. "His actions this week reflect his deep commitment to the values we all share as Democrats. I support Chairman Betras without hesitation."
Patton said, "This isn't about race. It's about loyalty, integrity, and having the courage to do what's right, even in the most difficult or challenging circumstances. Like the vast majority of the members of the [party], I support the chair and appreciate his dedication to our party and its candidates."
Annie Gillam and Rodgers said Betras never asked who they supported before they were ousted.
Along with Gillam's husband, they said Wednesday that they back Kitchen, the mayor's chief of staff and secretary.
Annie Gillam said she would have resigned "if I'd have thought about it. If he called me, I would have done so. The way he did it is what I take issue with."
Rodgers said the "situation could have been handled a lot better. I never received a call from Dave Betras before or after."
Gillam's husband said he told Betras he was supporting Kitchen in a telephone conversation and the chairman didn't say anything about it. Betras denies that call took place.
When asked why he didn't call them and remove them privately, Betras said: "They all know my position. I've said it repeatedly, and they know that if they openly defied not backing the party nominee, I'd remove them."
Mr. Simon said Betras' decision to "publicly reprimand and embarrass" the three is causing a "division in the [Democratic] Party" and has "offended and outraged the African-American community."
Blacks "have been loyal to the Democratic Party even though we are constantly and consistently overlooked in consideration for party elected positions," he said.
Betras said he's appointed more minorities to the party's executive committee than any previous Mahoning County Democratic chairmen.
"What my critics either don't understand or are purposely ignoring is the fact that I could care less about a particular candidate's race, ethnicity, religion, gender, sexual orientation or economic status," he said. "What matters to me is party affiliation, period."
Sonny Morgan, vice chairman of the Youngstown Warren Black Caucus, which endorsed Kitchen for mayor and has Aslam as its president, said he was "appalled by what" Betras did. "Next thing we're going to do is fire" him as chairman, he said.
Others called on Betras to apologize and reinstate the committee members. Betras said he stands by his decision.
Except for a public outburst with county Treasurer Dan Yemma, Betras has quietly removed people from the executive committee or accepted their resignations in the past when they publicly backed a non-endorsed party candidate.
"They should be handled behind closed doors," Mr. Simon said.