Trumbull Correctional Institute and Trumbull Dog Kennel start dog-obedience program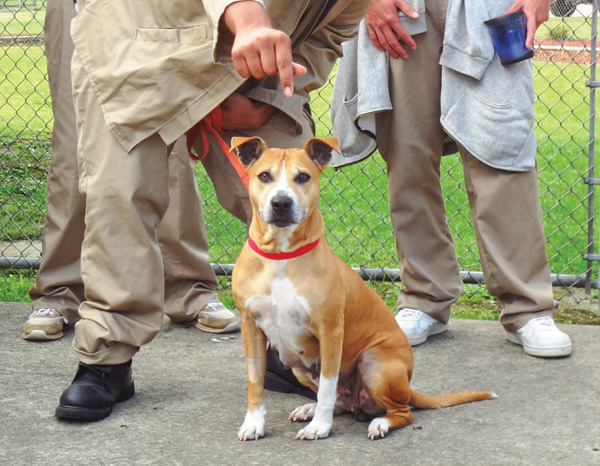 ---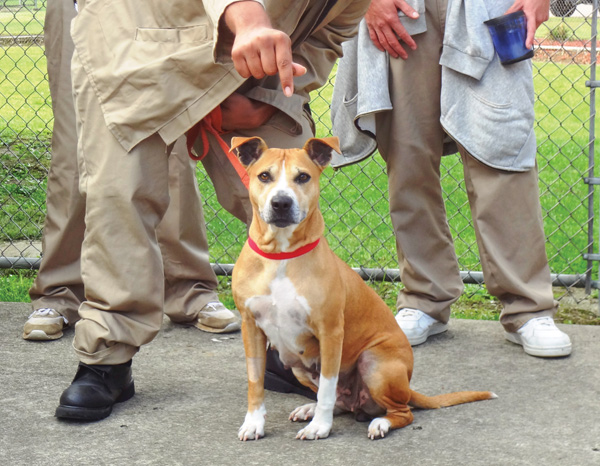 Photo
Inmate handlers at the minimum-security camp at Trumbull Correctional Institution in Leavittsburg said goodbye Wednesday to the dogs they trained and lived with over the past nine weeks. The six dogs were returned to the kennel, and six new ones, including the one above, were delivered to the prison to begin their training.
By Ed Runyan
LEAVITTSBURG
A new dog-training program involving inmates at the Trumbull Correctional Institution and dogs from the Trumbull County Dog Kennel is about second chances.
Nine weeks ago, the kennel, on Anderson Avenue in Howland, turned over six dogs to the prison's minimum-security camp, which is for inmates nearing the end of their prison terms.
Over that time, six inmates who each were matched up with one of the dogs worked with the animal daily with the help of weekly visits from an expert at Elite K9 Training of Cortland.
The goal of the program is to have the inmates provide obedience training to the animals to prepare them to be adopted.
At the same time, the inmates learn a skill, said Julie Loomis, warden's assistant and public-information officer at the prison.
The skills they learn in dog training, housing and handling can be valuable to the inmates when they leave prison, Loomis said.
Meanwhile, the dogs, some of them large breeds that can be tougher to adopt, are taught how to behave in family-friendly ways, such as being housebroken.
In that sense, the program gives the dogs and the inmates a second chance.
On Wednesday, the dog kennel received back the first six dogs and dropped off six more.
Corrections officer Dan Janiw, who helped get the program started with his wife, who is a volunteer at the kennel, selects prisoners who have shown responsible behavior and who seem as though they would benefit most from a close relationship with a dog.
The prison has had a similar program in place for about 10 years that works with animals from the Animal Welfare League of Trumbull County, but that program works with inmates at the main TCI compound.
Loomis says she can testify to the success of the program that has been in place over the years, having adopted two dogs trained by prisoners herself.
"It's easy for me to have no reservations, but it's up to the dog kennel to find the right home," she said.
"We don't have a high turnover," she said. "Once they get into the program, they love being around the dogs," she said of the inmates.
Anyone interested in adopting one of the dogs is able to view them at www.petfinder.com/pet-search?shelterid=OH650.