Penguins open MVFC play Saturday at SIU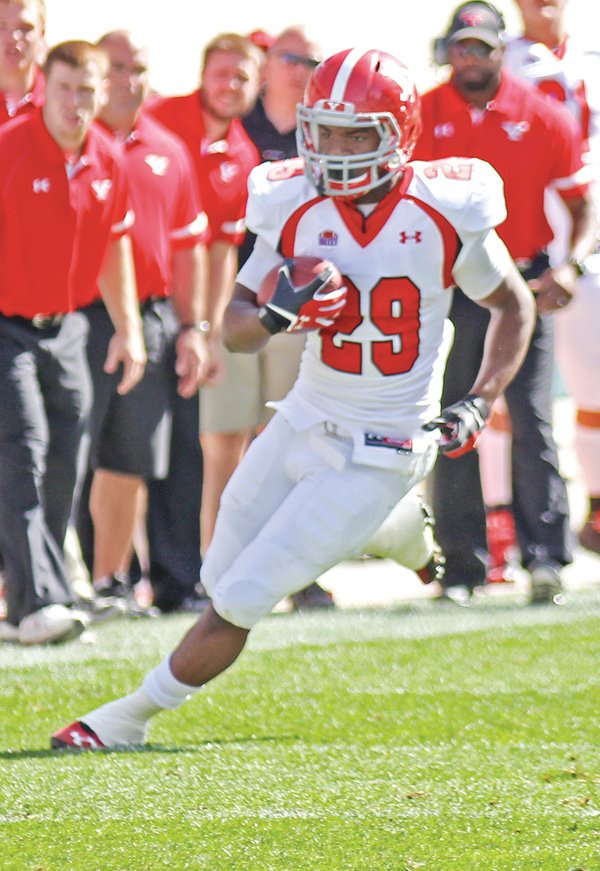 ---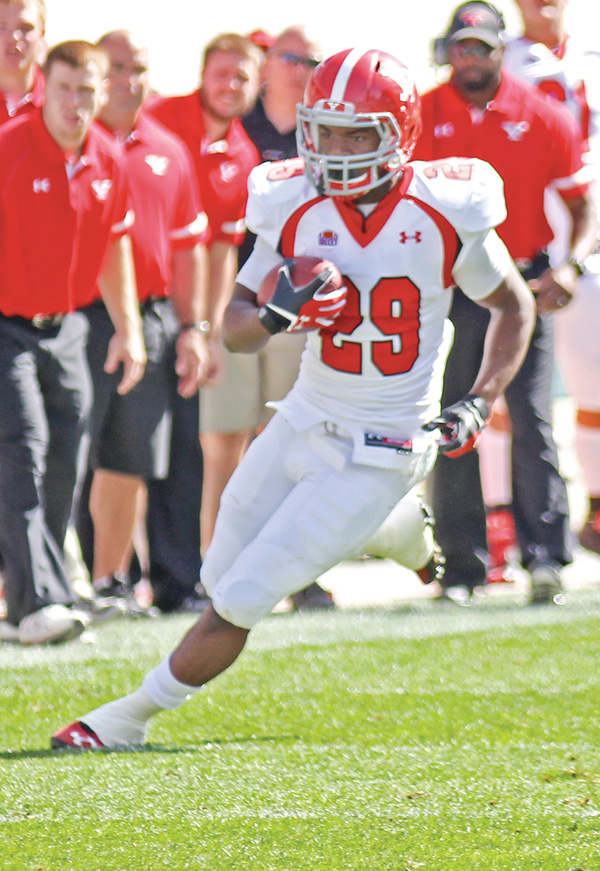 Photo
Youngstown State leads the MVFC in rushing with 238.8 yards per game, with four different running backs, including Martin Ruiz above, each reaching 100 yards so far this season. The Penguins hope to maintain their productive ground game when they face Southern Illinois on Saturday.
Penguins look to maintain productive ground game
against Salukis' stingy 3-4 defensive scheme
By Joe Scalzo
YOUNGSTOWN
Youngstown State coach Eric Wolford doesn't necessarily subscribe to the "Three things can happen when you pass the ball, and two of them are bad" philosophy, but he does think it can complicate the offense.
"There's a lot of moving parts that go into throwing the football," he said. "I'm not talking about from a quarterback perspective. I'm talking about from the snap to reading coverage to protection to a receiver running the right route, and some routes are based on coverage ...
"There's a lot of things that can go on there. That's why sometimes it's easier to turn around and hand the ball off."
That could be a struggle this weekend when YSU (3-1) plays at Southern Illinois (2-2). The Salukis rank first in the Missouri Valley — and ninth in the country — in rush defense, giving up just 83.5 yards per game.
YSU ranks first in the MVFC rushing with 238.8 yards per game, with four different running backs over 100 yards already this season.
"Something's gotta give," Wolford said.
Southern Illinois' defense is built around pressure. Although the Salukis run a 3-4 base defense, they do a good job disguising their intentions, bringing players from different angles. SIU is tied for the MVFC lead in sacks with 13 — YSU has seven — and gets a lot of its pressure from its linebackers, including the reigning MVFC defensive player of the week, Bryan Presume, who leads the conference in tackles (41).
"Defensively, they take a lot of pride in getting shots on the quarterback," Wolford said. "They take a lot of pride on tackles for loss and stopping the run. They've got a good scheme."
Offensively, SIU quarterback Kory Faulkner will make his 23rd straight start. He's completed 79 of 134 passes for 949 yards, 10 TDs and two interceptions this season.
His main target is all-conference tight end MyCole Pruitt (6-foot-3, 250 pounds), who has 20 receptions for 285 yards and four TDs.
Malcolm Agnew leads a deep backfield, rushing 46 times for 279 yards and a TD in just three games. Like YSU, the Salukis like to use their run game to control time of possession and set up play-action passes.
"They do a lot of things, motion-wise and shifts to keep a defense in check," senior defensive end Kyle Sirl said. "It's going to be an interesting game. I'm excited to get in there and play it out, but I think we should be on top of things."
Southern Illinois was picked to finish seventh in the preseason poll but already looks like a playoff contender. A win against the Salukis could be a big boost for YSU, which begins the conference slate with five winnable games before facing a late-season gauntlet.
"Southern Ill is a great opponent," senior guard Fred Herdman said. "Starting off with a W against them would be huge. It would get us rolling in the conference."