Canfield wins outright AAC title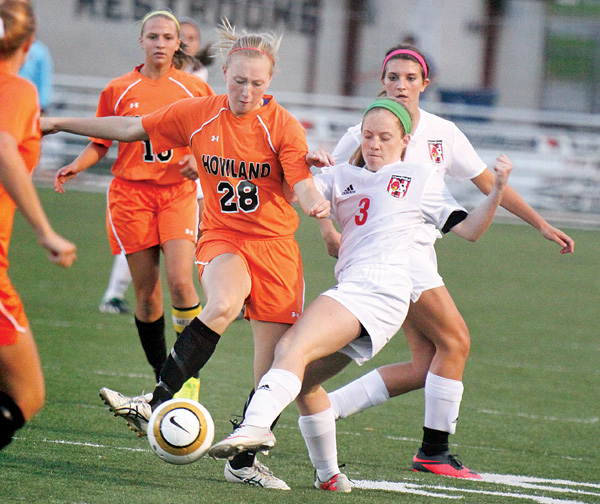 ---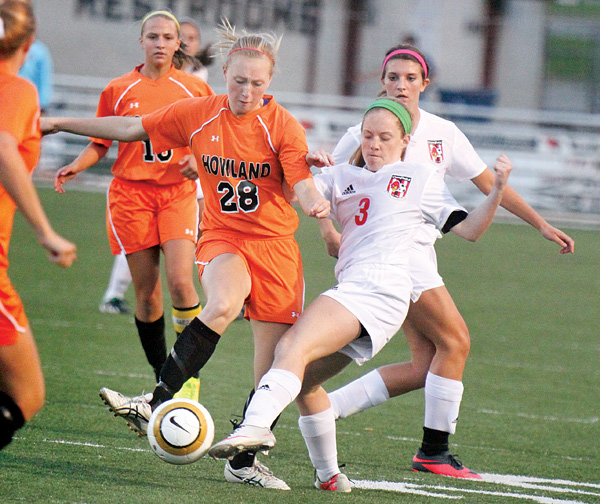 Photo
Howland's Morgan Scott (28) and Canfield's Kelsey Yankush vie for control of the ball during their soccer match Wednesday in Canfield. The Cardinals edged the Tigers, 2-1.
Mancini's goal lifts Cards over Tigers
By Steve Wilaj
sports @vindy.com
CANFIELD
The past couple of years, the Canfield High girls soccer team has experienced some big victories, sharing the All-American Conference American Division title with Howland last season.
But some victories are bigger than big.
The Cardinals (9-2-1) defeated the Tigers, 2-1, on Wednesday night to win the AAC championship outright for the first time in school history.
It was also the first time Canfield's senior class defeated Howland twice in the same season.
So it wasn't just a big win. It was — as Cardinals coach Phil Simone said — "enormous."
"We've never done this before," said Canfield's Elena Billy, a senior captain. "So as seniors, it's a big win for us because all the years we lost to Howland at least one time during the season. It feels great to finally get them twice."
Simone said he knew his team was capable of these accomplishments.
"We've had some high expectations from them," Simone said. "They're a solid group from top to bottom. They work hard as a group. And they get along so well, which really helps them succeed."
The deciding goal came in the 64th minute when freshman Anita Mancini found the back of the net. Billy assisted the score.
"I got a nice cross-in from Elena and it was just wide open, so I took it," Mancini said. "It was there and I wanted it really bad. I don't always have the best shot, but it felt great to score that one tonight."
Howland came out the aggressor, jumping ahead 1-0 on a goal from Hope Sutton at the 15:15 mark. But from then on, it was all Cardinals.
Billy evened the score on a goal with 8:45 remaining in the first half. She was set up by Cheyenne Story.
"Chey had a free kick and I was on the far side," Billy said. "She kicked it over, I got a touch on it and hit the back of the net."
Billy felt Canfield's persistence was the difference in the game.
"We just kept working hard and kept pushing ourselves," she said. "We got the momentum going and finished it."
Howland falls to 8-2. Tigers head coach Joe Megyesi said Canfield (9-2-1) was able to control possession slightly more in the second half.
"At that point it was 1-1 and we came out pretty decent," he said. "Evidently, it's home field and they were just pushing it harder. They do have some good players and a lot of speed. So it was tough, but it was a good game on both sides."