2 local Toastmasters win in humor and table topics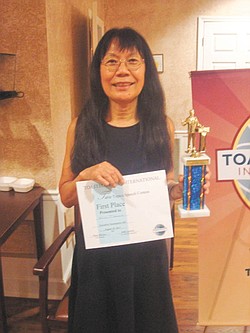 Photo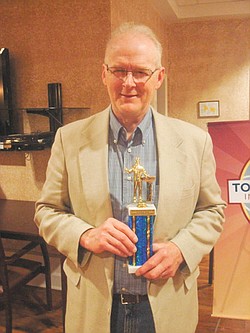 Photo
Staff report
POLAND
Two members of Toastmasters Executive 408 of Youngstown will compete in an area contest after winning in the recent Humorous Speech and Table Topics Contests.
The contests took place during an Executive 408 meeting at Shepherd of the Valley in Poland recently.
Brian McGowan of Boardman won for humorous speech, and Miki Thomas of Youngstown won the Table Topics portion.
For humourous speeches, contestants have to give a cohesive 5-to-7 minute speech that is both engaging, entertaining and humorous. Table Topics forces a contestant to put quick thinking and improvisational skills to the test. Contestants must answer a random question on the spot in one or two minutes.
McGowan and Thomas will compete with representatives from other toastmasters clubs in a contest to be announced.
Toastmasters International is a worldwide nonprofit educational organization. Youngstown Executive 408 is one of more than 13,500 toastmasters clubs. The club meets from 6:45 to 8:45 Mondays at Shepherd of the Valley, 301 W. Western Reserve Road. For information visit www.speakingclub.org.