Published: Wed, September 25, 2013 @ 4:51 a.m.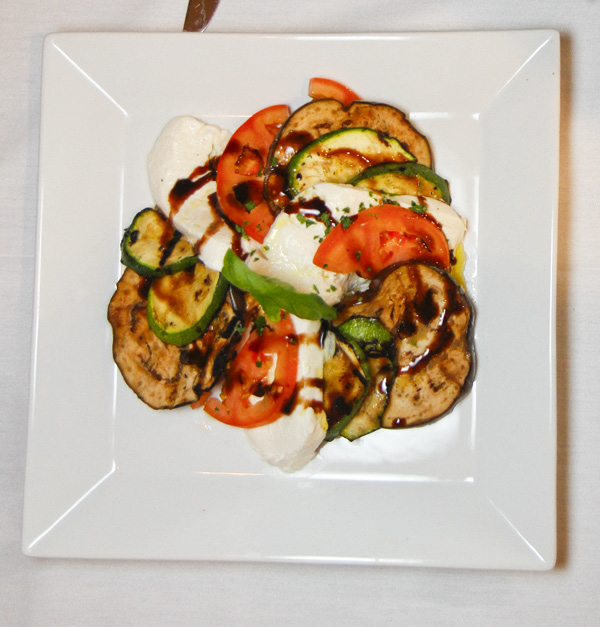 Photo
The Emozioni Di Mozzarella appitizer.
If You Go...
Where: Andrea's Italian Ristorante & Bar
Address: 4010 Boardman-Canfield Road
Telephone: 330-286-3848
Website:andreasitalianristorante.com
Dinner Service: 4 to 10 p.m. Monday through Saturday with Happy Hour from 4 to 6 p.m.; closed Sundays
By Mark Smesko & Michael Vallas
CANFIELD
Truth be told, going to a restaurant featuring Italian food wasn't high on our culinary bucket list. But we heard a good buzz on a new restaurant, with a chef from Italy, which recently opened in Canfield. Located at 4010 Boardman-Canfield Road, Andrea's was opened about seven weeks ago by owner Tony Russo.
Tony explained that through a convergence of circumstances — an empty building, an available liquor license, and a cousin ready to emigrate from Italy — Andrea's was formed. Andrea Pagono completed his culinary training just outside Naples, and upon an invitation from Tony came to Canfield with his wife and 17-month-old.
When you walk into the restaurant, you'll notice an ample bar and a dining area much bigger than anticipated from outward appearance. The decor is warm and inviting, the wait staff friendly and eager.
We decided to start our meal off with a near handful of appetizers. The first was Emozioni Di Mozzarella, Andrea's take on a Caprese salad. This consisted of fresh mozzarella, tomatoes, zucchini and eggplant drizzled with olive oil and a balsamic glaze. The combination of the soft cheese, ripe tomatoes and grilled vegetables worked well with the fragrant basil and the sweetness from the glaze.
Our second appetizer was Pollo Bon Bon. This is a trio of chicken drumsticks turned into meat lollipops. They are breaded and fried but crispy light and are served with a slightly sweet whole grain mustard sauce. The crunchy, tender chicken pairs well with the sauce and reminded us of a fanciful version of chicken wings. Visually interesting and very tasty.
Somewhere along the way we enjoyed a plate of charcuterie, composed of mild and spicy sopressata, capicola and prosciutto, olives and assorted Italian cheeses. The only thing missing was a jar of Butchy Pecchia's homemade hot peppers and this plate could have been a meal in itself.
Our last starter was the Melanzane Alla Parmigiana. A delicious version of eggplant Parmesan. Tender layers of eggplant and cheese melded with a rich roasted tomato sauce. This was an Italian classic with a homemade feel.
From the appetizers we next sampled a cup of lentil and sausage soup, consisting of tender lentils with a slightly spicy sausage served in a rich broth infused with a hint of rosemary. This soup was both savory and filling.
We moved on to the entre s, which consisted of Baccala Alla Mediterranea and Petto Di Pollo. It took a bit of a push to order the baccala as the name elicited childhood memories of smelly salted cod on Christmas Eve. However, this was a fresh, flaky portion of fish that was topped by a light tomato sauce highlighted by black olives, capers, and oregano (essentially a puttanesca sauce for those with Italian grandmothers). The freshness of the fish played nicely against the saltiness from the olives and capers. This was a light and satisfying dish and it helped bring baccala back into our vocabulary.
The Petto Di Pollo consisted of a boneless chicken breast stuffed with mozzarella cheese. The chicken was cooked nicely allowing the mozzarella to ooze out when cut and was served alongside a generous portion of artichokes. The artichokes had a slight lemony flavor and were accented by small pieces of pancetta, an Italian bacon that added a touch of saltiness to the dish.
Uncharacteristically for us, and upon Tony's insistence, we concluded our meal with a sweet treat. Vesuvio, a moist chocolate cake with a molten center of rich semisweet filling, was a nice closing to our meal.
At 7 weeks old, Andrea's is in its infancy. And though there were a few misses among the evening course (maybe a little more sauce here and a few less artichokes there), all the ingredients for success were present. With its engaged owner and a casual, elegant atmosphere, we hope to see Andrea's continue to grow and develop over the next year.
ABOUT Signature Dishes
Mike and Mark are on the lookout for the biggest, hottest and tastiest dishes in the Valley. Email them at BrothersInFood@gmail.com.