St Rose School's centennial starts Thursday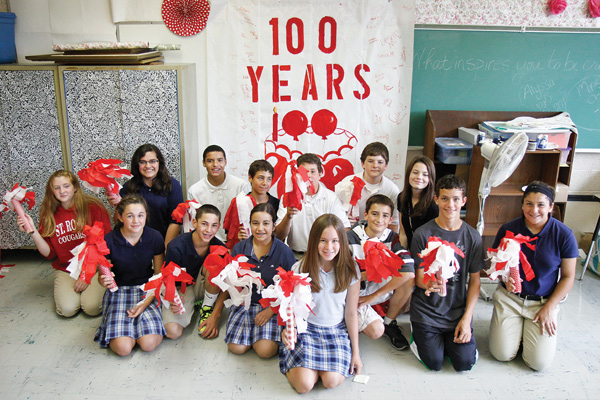 ---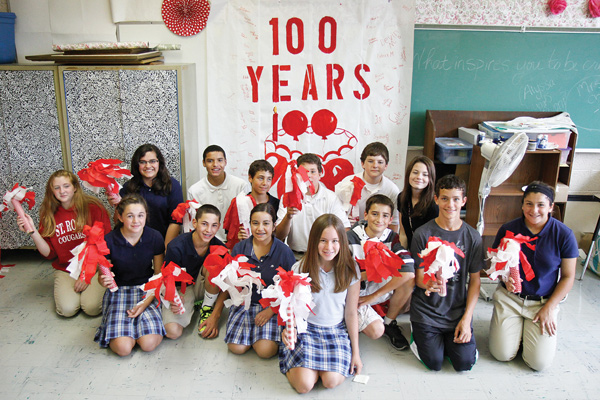 Photo
St. Rose School in Girard is celebrating its 100th anniversary with festivities that begin Thursday with a pep rally for all students. There will be a special luncheon Friday for eighth-graders, who will be in the school's 100th graduating class, and past and present eighth grade teachers and staff ; an open house and Mass on Sunday; and a dinner Sunday evening. Above, students from one of two eighth grade classes pose in front of a banner made in honor of the special anniversary.
By Jeanne Starmack
Girard
St. Rose School is approaching a special anniversary, and it's party time.
Many students have passed through the school's doors since it was established in 1913. Now, the school that's been a community landmark on East Main Street will graduate it's 100th eighth-grade class.
A celebration of 100 years and the end of a capital campaign that began four years ago will begin with a pep rally for all students at the school at 1:30 p.m. Thursday. At 2 p.m., the school will receive a proclamation from the Trumbull County commissioners.
On Friday, there will be a luncheon in the basement of the church for eighth-graders and past and present eighth-grade teachers and staff.
From 1 to 2:30 p.m. Sunday, there will be an open house at the school, then a Mass at 3 p.m. with Bishop George V. Murry and the Rev. John Zuraw, monsignor at the church.
Finally, 300 people are expected for dinner at 5 p.m. at the Mount Carmel Hall in Youngstown.
Mary Ellen Britt, a 1960 St. Rose graduate, headed the capital campaign and is in charge of the celebration.
"Aren't I lucky," she said, laughing, as she and Linda Borton, St. Rose principal, sat in a classroom at the school last week.
But really, it's all a labor of love for Britt, whose mother graduated from the school in 1929. Britt and her sister attended, then Britt's daughters. Now her three grandchildren are the fourth generation of her family to attend.
The teaching staff is made up mostly of lay teachers now. But the Ursuline nuns were instrumental in starting the school, Britt said. One Ursuline nun, Sister Carole Suhar, remains as an intervention teacher.
The school continues to be the feeder school for Ursuline High School in Youngstown, said Borton.
"Whether [students] go on to Ursuline or to public schools, they are successful because of this foundation," Borton said.
The original school, which cost $15,000 to build in 1913 and housed eight classrooms, was torn down four years ago. A bigger one that was built in 1955 has 21 classrooms and houses 251 students from kindergarten to eighth grade.
Through the capital campaign, the school has all new windows and a new roof, Britt said. "We want to do the gym floor next year."
There also are new boilers and technological updates, said Borton.
The campaign raised a little over $400,000, Britt said, through contributions from alumni and friends of the school.
"It's amazing we've been here that long," Borton said. "The community is so unique among Catholic schools," she continued. "They still get together with their elementary classmates."
"We have several teachers who went here," she said.
"It's a fabulous place to work," said Borton, who has been principal for five years.
"I hope it's here another 100 years," she said.