YSU gets a chance at redemption against SIU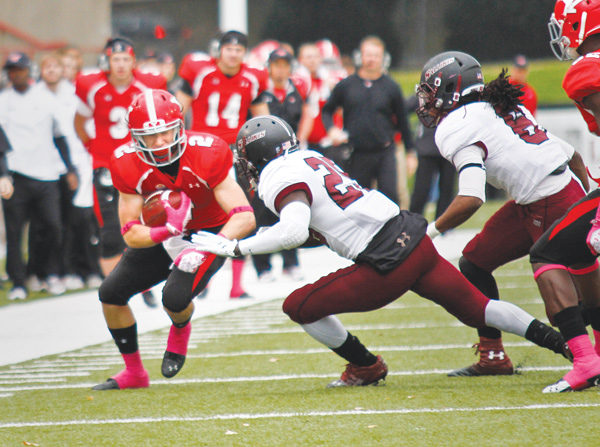 ---

Photo
Youngstown State wide receiver Christian Bryan (2) turns upfield after a catch against Southern Illinois during an Oct. 20, 2012 game in Youngstown.
By Joe Scalzo
YOUNGSTOWN
Just about everything that went wrong with Youngstown State's 2012 season could be found in the giant turkeyburger that was the Penguins' 38-21 loss to Southern Illinois.
Turnovers? YSU had five, including four in the fourth quarter.
Bad quarterback play? Kurt Hess played maybe the worst game of his career, throwing two interceptions (one of which was returned 100 yards for a touchdown) and losing two fumbles (one of which was recovered in the end zone for another TD).
Bad special teams? Andre Stubbs lost a fumble on a kickoff return — and nearly fumbled away another on a punt return — and YSU had a punt blocked, which was recovered in the end zone for a TD.
Responding to adversity? The Penguins didn't, blowing a 21-10 lead just one week after they blew a 28-7 lead to Illinois State.
"I remember last year being really heart-breaking," senior DE Kyle Sirl said. "That's the best way I can put it.
"They stole one from us."
Added wide receiver Christian Bryan, "That was definitely a rough one. We feel like we sort of handed it to them."
YSU (3-1) gets its chance at redemption on Saturday when it opens the Missouri Valley slate in Carbondale, Ill.
The Salukis (2-2) have won two straight after opening the season with losses to Illinois (42-34) and nationally-ranked Eastern Illinois (40-37 in two overtimes). Southern Illinois actually had a first-and-goal in the closing minutes against the Illini but their drive stalled at the 3.
"They're obviously a good football team," YSU coach Eric Wolford said.
The question is, is YSU? The Penguins had big talent (and scholarship) advantages over Dayton, Morehead State and Duquesne and couldn't do much against Michigan State, so Saturday's game is the first real gauge of how good they are — or aren't.
"If we beat teams in this conference, I think it will really show how good you really are," Bryan said. "I think we have a really good team this year, but we'll see come Saturday."
When Wolford was hired four years ago, the Salukis were the class of the MVFC, having shared the league title in 2008 and won it outright in 2009. YSU snapped Southern Illinois' 14-game conference win streak in Wolford's first MVFC game.
SIU finished 5-6 that season, then went 4-7 in 2011 and 6-5 last year but appears to be a program on its way back up.
The Penguins think they are, too. And while it's just the first of eight conference games, it could be one of the most important.
"The ability's there, we have all the tools we need to reach our goals," Bryan said. "It's not a talent thing. We have all the talent in the world. We just have to do the little things right."
One of the criticisms of last year's team was its inability to handle adversity, crumbling early in blowout losses to North Dakota State and South Dakota State and crumbling late in losses to Illinois State and Southern Illinois.
Bryan believes this year's team is better equipped to handle adversity.
"The past two years, the adversity we've gone through, falling one game short of the playoffs the past two years ... we know what we've got to do now," he said. "There's no excuses.
"We've got to make it happen."