Sarisky leads Hubbard past Canfield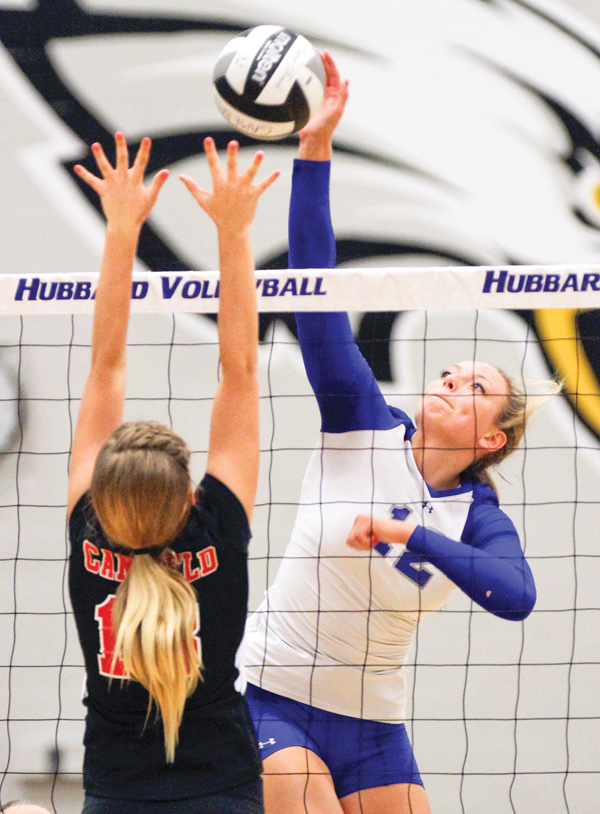 ---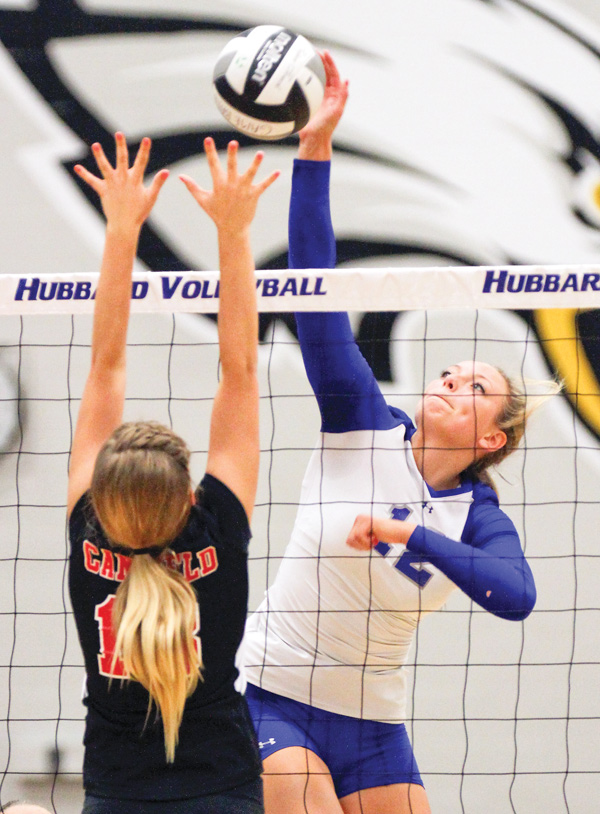 Photo
Hubbard's Caitlin O'Hara (12) goes up for a spike as Canfield's Madison Stewart (18) tries to make a block at the net Tuesday night. Hubbard won in four games, 19-25, 25-21, 26-24, 25-13.
By TIM CLEVELAND
HUBBARD
After a loss to Canfield earlier in the season, the Hubbard volleyball team entered Tuesday night's match seeking revenge.
With the match tied at 1 and the Cardinals leading 24-22 in Game 3, it appeared they would go ahead and cruise to yet another victory.
With defeat seemingly imminent, Hubbard's Macey Sarisky took matters into her own hands, winning four consecutive points on her serve to save the game and the Eagles went on to a 19-25, 25-21, 26-24, 25-13 victory.
"It was stressful," she said. "I didn't know if we were going to be able to pull through, but we did. We showed our heart and desire. We wanted it so bad ever since we lost to them."
"We came together as a team and made some great defensive plays," Hubbard coach Jeremy Porter said. "Put the ball up there and she swung at it and did the job."
Canfield coach Maria Householder said her attempted adjustments didn't pay off as Hubbard seized the momentum.
"All I can say is we couldn't pull it out," she said. "I was throwing in people to adjust to some weak spots. (Hubbard) was tipping to the same spot every single time and they just played better than we did tonight."
Sarisky led Hubbard with three aces and 17 kills. Her last two kills closed out the match for her team.
"I really wanted it," she said. "I wanted to show my heart and show them that I wanted it."
With a 2-1 advantage, Hubbard (9-6) kept its momentum going, easily winning Game 4.
"Momentum's such a big thing," Porter said. "If we would've went down in that game, it probably would've flipped the outcome. That's such an important game."
Householder said her team's lack of performance aided the Eagles in winning the fourth game.
"There wasn't much advice I could give," she said. "We just had to play better. We just weren't playing the way we usually play and it showed. That's what happens when we don't play to our capacity."
Canfield (13-2) got off to a good start in Game 1. The Cardinals' defense got their hands on several balls that normally would have fallen in to keep rallies alive.
Householder gave credit to her libero for helping with the defensive effort.
"Rachel Rafoth is one of the area's best liberos," Householder said. "They pick up balls that normally wouldn't come up."
Porter said the Eagles followed his instructions to the letter after losing Game 1.
"We needed to pick up our game," he said. "We talked about that between the games. They listened to everything we had to say and the adjustments that were made they listened to and did perfectly.
"It was a real big win for us. Canfield's a very good program in our area. Enjoy it for a day and then get back at it."