Nurses, hospital hold positions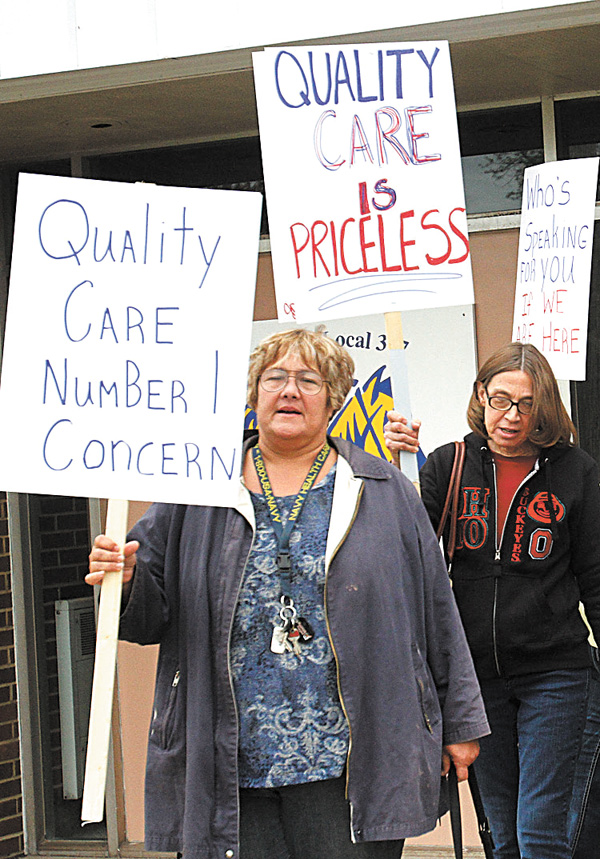 ---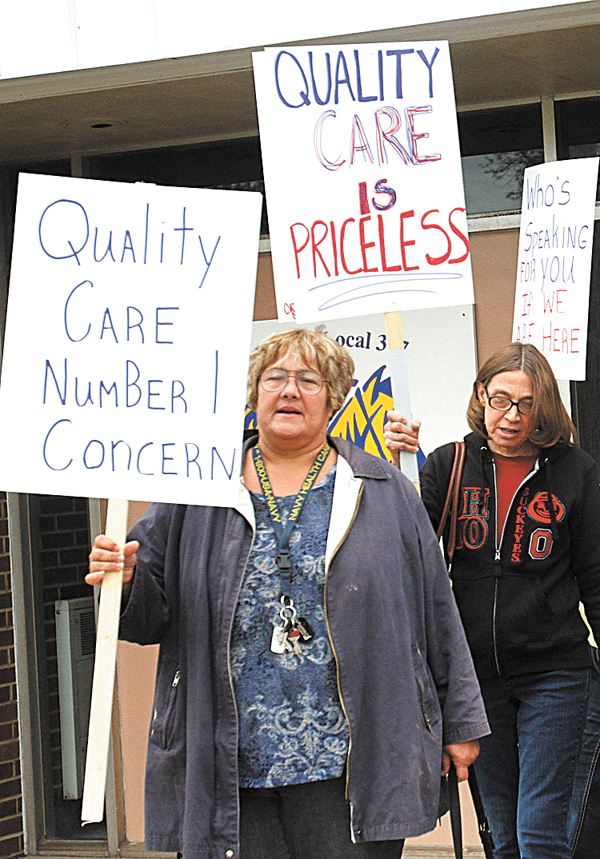 Photo
ValleyCare Northside Medical Center registered nurses, holding signs for today's one-day strike at the hospital on Gypsy Lane on Youngstown's North Side, stand in front of Teamsters Local 377 hall Monday, where they received a final briefing on their strike duties.
YOUNGSTOWN
ValleyCare Northside Medical Center officials say if its registered nurses went forward today with a one-day strike they could be in violation of federal law and lose their jobs.
In a news release, hospital officials said they filed an unfair labor practice charge Monday with the National Labor Relations Board challenging the validity of the Ohio Nurses Association's 10-day notices of its intention to commence a strike and picketing at the hospital, 500 Gypsy Lane on the city's North Side.
The Youngstown General Duty Nurses Association, which represents about 400 nurses at Northside, is affiliated with the ONA.
Leaders of the nurses' union, however, said the one-day action will go ahead as planned, and they also took steps to file an unfair labor practice charge against management for illegal intimidation of nurses at the hospital, according to a statement Monday night from the Ohio Nurses Association.
The hospital contends the ONA violated Section 8 (g) of the National Labor Relations Act by serving three separate, conflicting and confusing notifications to the hospital.
On Sept. 12, the notice specified that a strike and picketing would commence at 8 a.m. Oct. 24; on the same day, Sept. 12, an "amended" notice specified that a strike and picketing would commence at 8 a.m. today; and later the same day, Sept. 12, a second "amended" notice specified that the union would commence a strike and picketing at 7 a.m. today.
Section 8 (g) requires that both the union and the hospital agree in writing to any modifications of the notice that would extend the strike.
The hospital has not agreed to any of the union's notices, and if the ONA moves forward with its strike and/or picketing today, the hospital would view such activities as unlawful, said Robert Sincich, interim vice president of human resources and director of labor relations.
Eric Williams, president of the YGDNA, said, "There can be no question that Northside management has been adequately notified of our plans.
"Their baseless claim that the notice of this strike was somehow inadequate is a transparent ploy to threaten our members," he continued.
Meanwhile, Mahoning Valley legislators state Reps. Robert F. Hagan of Youngstown, D-58th, Ronald V. Gerberry of Austintown, D-59th, and state Sen. Joe Schiavoni of Boardman, D-33rd, have called on the Tennessee-based for-profit owner of ValleyCare Northside Medical Center, Community Health Systems Inc., to return to the bargaining table and negotiate a fair-and-equitable contract with its nurses at Northside.
Hagan added, "It is embarrassing that this giant of a hospital that spends most of its time trying to take over other hospitals so it can grow its profit instead caring for those who work for them and improving the health of those they care for would use an age-old tactic to keep from negotiating in good faith."
Schiavoni added, "Collective bargaining, and the cooperation that it can lead to through fair negotiations, is a value that runs deep in the Mahoning Valley, and I am certain that progress can be made if both sides of the current dispute make the effort to return to the negotiating table to find an agreement."
In a letter to all Northside employees and volunteers, dated Sept. 19, Sincich said ValleyCare Northside Medical Center does not intend to replace striking registered nurses as long as the striker refrains from unlawful conduct or other serious misbehavior during the strike and picketing.
In today's statement, however, he said "Very unfortunately, by federal law, nurses who participate in an unlawful strike in violation of the strict 10-day notice requirements of Section 8 (g) could lose their employment status, until re-employed, pursuant to the National Labor Relations Act.
"It is irresponsible and regrettable that the ONA would subject our nurses to potentially unlawful activity that could conceivably have had an impact on their employment status if the ONA's notices are deemed by the NLRB. to be defective," he said.
Both sides made final preparations over the weekend as members of the YGDNA and ONA readied for the one-day strike against the hospital scheduled to begin at 7 a.m. today .
The YGDNA strike includes an 11 a.m. rally on the picket line at which Williams and other union leaders will speak.
Sincich's Sept. 19 letter also offered information for union and nonunion workers about crossing picket lines or how to resign from the union; followed by a disclaimer saying that Northside Medical Center is not encouraging anyone to resign from or remain a member of a union, or strike or not to.
"These choices belong to each employee," Sincich wrote.
The nurses made picket signs Sunday and had final meetings Monday in preparation for their work action.
In a previous statement, ValleyCare Ohio Health Systems, owner of Northside, said it is "fully engaged in preparing to take care of our patients ... through visiting nurses, physicians and other care providers."
Williams said ValleyCare is bringing in outside contract nurses provided by a firm, U.S. Nursing Corp.
According to the firm's website, it provides staffing solutions during labor disputes.
Also posted on U.S. Nursing's website is an announcement saying it is recruiting for an Ohio job action expected to commence Sept. 24.
Straight time pay for nurses is $55 per hour and overtime pay is $82.50 per hour. There is also free shared housing and paid travel. Candidates must have a current Ohio license to qualify.
While patient safety is the nurses' primary concern, Williams said the hospital's proposal to eliminate the nurses' salary schedule is unacceptable, especially when RNs at Northside haven't had an across-the-board wage increase in eight years. Nurses start at $23.94 an hour. The top wage is $29.88, the YGDNA reported.
"It is kind of disheartening. This is obviously not about money. There is also a fee to the U.S. Nursing Corp. The hospital is spending more money in a day than it is offering us in the contract. It is amazing they don't want to move from their formal position," Williams said.
On Aug. 2, the YGDNA membership, which has been without a contract since July 19, 2012, authorized its bargaining committee to call a strike. The committee delivered a 10-day strike notice to the hospital on Sept. 12.