Promiseland Children's Ministry offers fun and games and more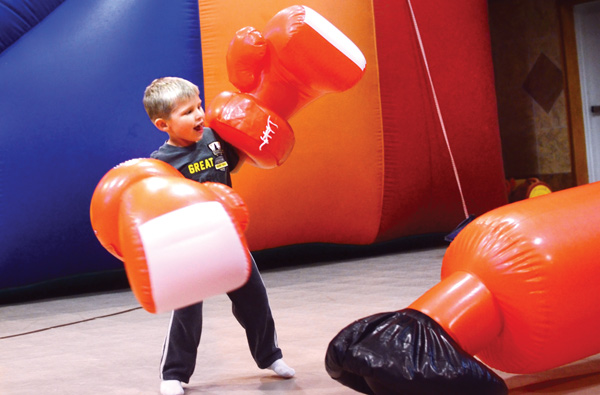 ---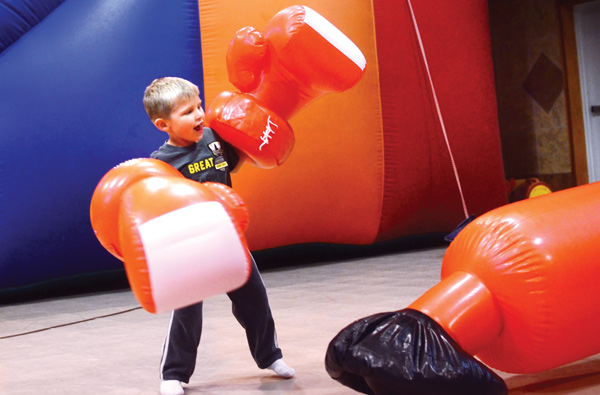 Photo
Ryan Gray wears mega-size boxing gloves to punch a big bag at a recent fun day kick-off for Promiseland Children's Ministry at Wedgewood Park Church, 1944 S. Meridian Road, Austintown. The 4-year-old was with his grandfather, Bob Gray, who said, "He's having a blast."
By LINDA M. LINONIS
Austintown
Promiseland Children's Ministry at Wedgewood Park Church isn't all fun and games but it will seem so to young participants.
A range of activities will provide good times with Christian education incorporated as an important element. The free program is open to the community.
Children will engage in crafts, music and games at the church and its Family Life Center. A sample was offered over the weekend during a "fun day kick-off" for the program planned from 6:30 to 8 p.m. Wednesdays, Oct. 2 through May.
Nancy Dudley, who coordinates the ministry with Marci McCombs, said the wholesome activities, including a Bible story and related crafts, are meant to be a vehicle "for children to hear the word of God." The church is an Evangelical Congregational denomination.
"We hope what they learn might help them face challenges they have with everyday life, school and family," Dudley said.
She emphasized the ministry will be a safe place for children to engage in play and be a haven. "We hope they get a sense of family here and feel comfortable talking to us," she said. Dudley noted the volunteers are church members or people who attend regularly; each is interviewed and goes through a background check.
Pastor Andrew Carr added the ministry provides "safe, family-friendly activities" along with some Christian education.
Dudley said the church has had a children's ministry for several years and she and McCombs have coordinated it the last three or four years. Attendance fluctuates, she said, citing other activities that draw children. Average attendance is about 15; age range is
from 4 years old to sixth grade.
Craft activities, Dudley said, continue the theme of the Bible story or are seasonal.
Sports activities include relay races, basketball and "fruit-themed" musical chairs.
Dudley said many of the children love singing Bible verses put to music. "They really enjoy that," she said.
The church sees the children's ministry as a community outreach, Dudley and the pastor said. Both said they hoped young families would take advantage of the free program in this economy.
"Children can learn about applying the word of God to their everyday lives," Dudley said.
She said the church will be the setting for the Bible stories; the group then will move to the Family Life Center for the other activities. Facilities at the center, built in 2008, include a gym and game room.
"We hope the children and their parents will want to be involved and know they have some place to go," Dudley said.
The ministry's name was taken from a national program in which the church was involved.
For seventh- through 12th-graders, the church has a youth group that meets from 6 to 8 p.m. Sundays.