Buckeyes facing first real test against Badgers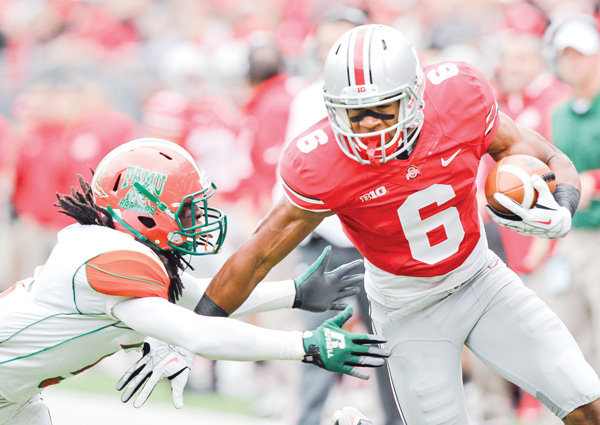 ---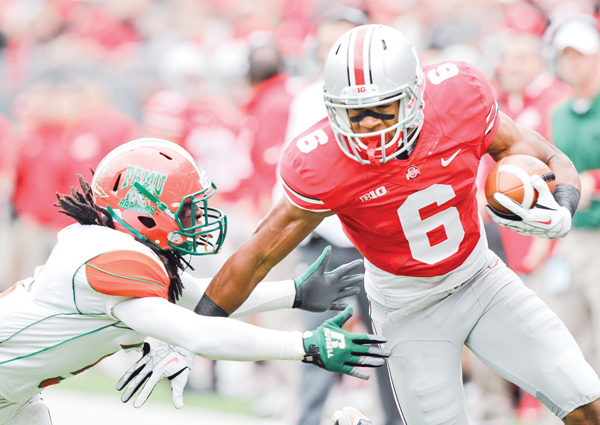 Photo
Ohio State wide receiver Evan Spencer (6) tries to escape the grasp of Florida A&M cornerback Patrick Aiken during the first quarter of a game in Columbus. The Buckeyes open Big Ten play Saturday when they take on Wisconsin.
Associated Press
COLUMBUS
In a close game, nothing can be left to chance.
No wonder Urban Meyer is making sure to go over all the details before his fourth-ranked Ohio State Buckeyes host No. 23 Wisconsin on Saturday night.
"It is very much a game that I think our players and their players know that it's going to come down (to the finish)," Meyer said. "This will be a classic game."
The game will be the Big Ten opener for Ohio State (4-0) and its first real test after slicing through four subpar non-conference cupcakes.
"We have to take our games to a different level," Buckeyes linebacker Curtis Grant said. "Anybody who gets in that game has to maximize their talent and just go out and play. We're in the Big Ten now and nothing's guaranteed, nothing's promised."
Wisconsin (3-1, 1-0 Big Ten) and Ohio State have a history of playing tight games that teeter on one dramatic moment.
Two years ago, the Buckeyes' Braxton Miller avoided a rush and hurled a 40-yard touchdown pass with 20 seconds left to win it 33-29 after Wisconsin had taken the lead with a touchdown with 1:18 remaining. Last year the Badgers' Curt Phillips flipped a 5-yard TD pass to Jacob Pedersen to force overtime, where Ohio State won 21-14.
"As much as you like coaching in those games, there's also the competitive spirit of the whole thing," Meyer said. "You know the preparation has got to be, cross all the t's, dot all the i's."
After a soft early schedule — their opponents are 3-10 with each of the wins against FCS schools — the Buckeyes know they're in for all they can handle in their Big Ten opener.
"It's going to be a tough game," center Corey Linsley said. "I've watched them on film. I mean, typical Wisconsin. The defense is tough, hard-nosed, they come at you, never take a play off. It was like that last year, and I'm sure it's going to be like that again this year."
Typical Wisconsin, except that the Badgers have a new coach. Gary Andersen is a former assistant to Meyer at Utah, and remains a good friend.
One thing that hasn't changed is that the Badgers do not ever seem to be intimidated by the Buckeyes.
Ohio State has gone 5-3 over the last decade against Wisconsin. Four of the games have been decided by seven or fewer points.