Crestview, South Range play to draw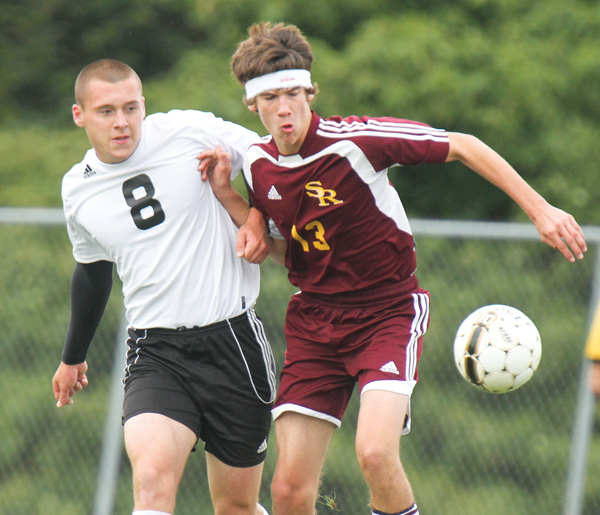 ---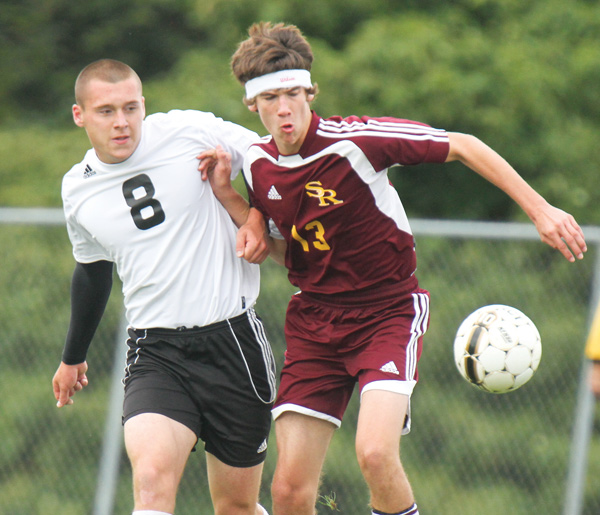 Photo
Crestview's Greg Bable (8) and South Range's Jonah Wilson (13) battle for control of the ball during a match on Monday.
By Ryan Buck
Columbiana
Monday evening's match brought out the best in Inter Tri-County League rivals South Range and Crestview.
It took about 70 minutes to materialize, but when their match finished in a 1-1 draw after the thrilling final minutes, all they could think about was wanting ... no ... needing more.
Two late goals left both teams right where they started — at the top of the conference standings — but building toward a potentially classic rubber match in the district tournament final come late October.
"Playing twice a year, the second time you play them, we both know how it works," said Crestview coach Jonathan Kinkead. "This is as close to a playoff game as we get before we get to the playoffs."
With few scoring opportunities to go around through most of the game, the pace quickened and South Range was the first to take advantage.
South Range forward Adam Meloy cut to the Crestview goal and found Cole Durina for a wide open volley past Crestview goalkeeper Nick Dean for a 1-0 lead with 5:29 left.
On whether he thought he had secured the winner, Durina said, "I did. I was screaming like it was."
Seconds after Raider forward Mark Vennetti's shot kissed the right goal post, inches from an insurmountable lead, the deflated Rebels surged forward.
A long pass out of the midfield from Tobin Gross found their leading scorer, two-time All-Ohio player Greg Bable.
Even with a build tailor-made for Friday nights on the gridiron, the Raiders' defense managed to hold Bable in check for most of the evening.
"He's such a big guy," said South Range coach Alan Styer, "and our team is young and small so we put (defender) Will Stephenson on him. We figured he's the guy. He's strong and has got a good, low center of gravity and will fight his heart out."
Bable's strength and savvy won out in the end, providing a highlight reel goal where, blindly, he kicked the ball behind him into an empty net to tie the game with 4:15 remaining.
"My goodness, at that point, we thought we had it in the bag," Styer said after watching the lead slip away. "The first thing I started yelling when we scored that goal was 'Defense, defense, defense!"
Twelve yards away from goal, Bable fought off Stephenson and saw Raiders goalie Brant Rothbauer leave his net.
"We were making the long runs into the middle of the (18-yard) box because, at this point, they were actually pushing their defense up," Bable said. "I didn't want to turn around because I thought that would be quicker if I just back-heeled it right in the back of the net."
His 59th goal in two seasons was one to remember.
"That'd be up there for sure," said Bable, a senior.
Less than a minute later, the Raiders stymied another Crestview opportunity after Tony Marr tore down the right sideline and played a perfect cross into the box. Both Bable and Caleb McGath had point-blank shots blocked and the Raiders' defense was able to clear the ball from harm's way.
Then back came the Raiders when Durina, clearly fatigued, deflected a loose ball ahead on a clear breakaway. Before he could release a shot at Dean, Crestview defender Noah Roberts poked the ball away to prevent another potential winning goal.
The Rebels took the first meeting with a 1-0 victory, but their two ITCL losses leave a three-way fight for the league title with South Range and United.
Though they've never met in the district tournament in his five years as coach, Kinkead hopes to see his rivals one more time, with even larger stakes.
"It's always back and forth," he said. "One team wins one game, the other team wins the other game. Hopefully, we see them again in the playoffs. Hopefully it's a district final, where we can really amp up the energy."