Turnovers doom winless Steelers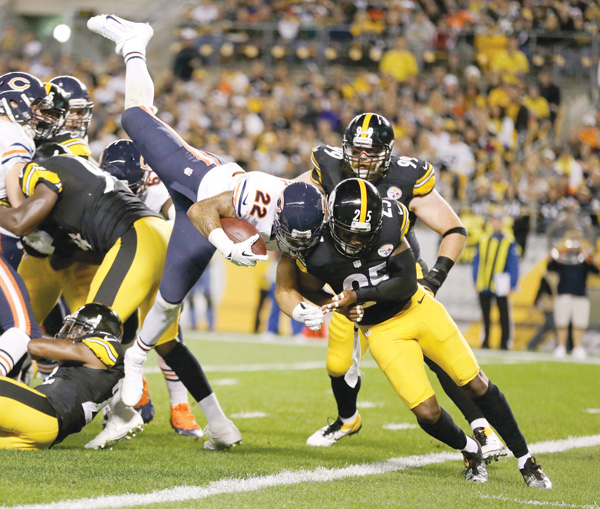 ---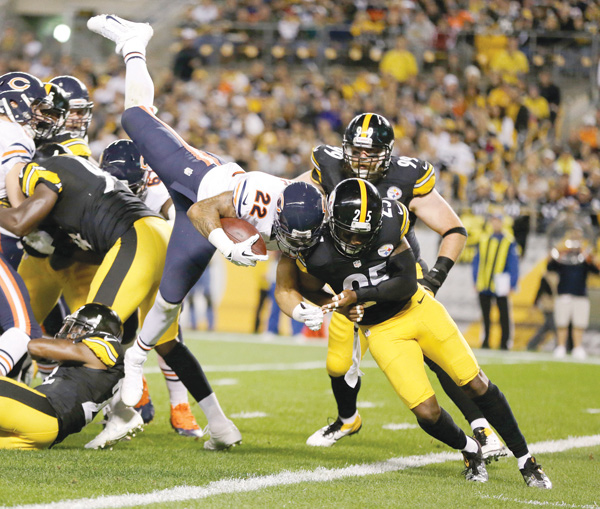 Photo
Bears running back Matt Forte dives for a touchdown over Steelers free safety Ryan Clark (25) during the first quarter of Sunday's game in Pittsburgh. The Bears capitalized on several Steelers mistakes, including two picks and two fumbles by QB Ben Roethelisberger, and won 40-23.
Roethlisberger throws 2 picks, loses 2 fumbles
Associated Press
Pittsburgh
The Chicago Bears are unbeaten. The Pittsburgh Steelers can't stop beating themselves.
Major Wright returned an interception 38 yards for a touchdown in the second quarter, and Julius Peppers picked up Ben Roethlisberger's fumble and raced 42 yards for a score in the fourth quarter as the Bears dropped the reeling Steelers 40-23 on Sunday night.
Roethlisberger completed 26 of 41 passes for 406 yards, and threw two touchdowns to Antonio Brown, but the Steelers fell to 0-3 for the first time since 1986 thanks to an avalanche of mistakes. Pittsburgh committed five turnovers, four of which led directly to points by the opportunistic Bears.
Jay Cutler passed for 159 yards and threw a 17-yard touchdown strike to Earl Bennett with just under 6 minutes remaining to give the Bears breathing room after the Steelers trimmed a 21-point deficit to four.
The Steelers trailed by three touchdowns in the first half but pulled within 27-23 on Shaun Suisham's 44-yard field goal with 10:43 to play.
Chicago's offense, which generated little after a 17-point outburst in the first quarter, responded behind Cutler.
The quarterback scrambled for 13 yards on third-and-10 to start the drive. Cutler then hit Brandon Marshall for 41 yards on third-and-12 to move into Pittsburgh territory. Facing third-and-5 at the Pittsburgh 17, Cutler found Bennett in the back corner of the end zone.
Officials ruled the pass was incomplete, but the play was overturned after replays showed Bennett deftly dragged his right foot before sliding out of bounds.
Pittsburgh tried to get back into the game but Lance Briggs stripped Roethlisberger, and Peppers picked up the ball. The veteran defensive end followed a parade of blockers down the sideline for Chicago's second defensive score of the night and third in two weeks.
The Bears rode a pair of fourth-quarter comebacks to a 2-0 start. A rally wouldn't be required this time after the Steelers continued to bumble their way through a miserable September.
Roethlisberger's second interception on a late stat-padding drive was Pittsburgh's ninth turnover through three games. The Steelers defense, meanwhile, hasn't recorded a takeaway through 12 quarters.
It's a recipe that rarely leads to victory.
Chicago's defense isn't quite the snarling force it was when recently retired linebacker Brian Urlacher was running things, but the Bears make up for their lack of bark with a pretty feisty bite.
When opponents get loose with the ball, the Bears pounce.
The mistakes started early. Pittsburgh turned it over twice in the first half.