Struthers father, son open game room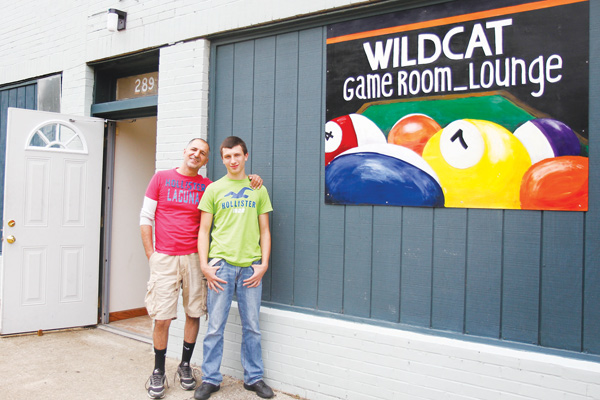 ---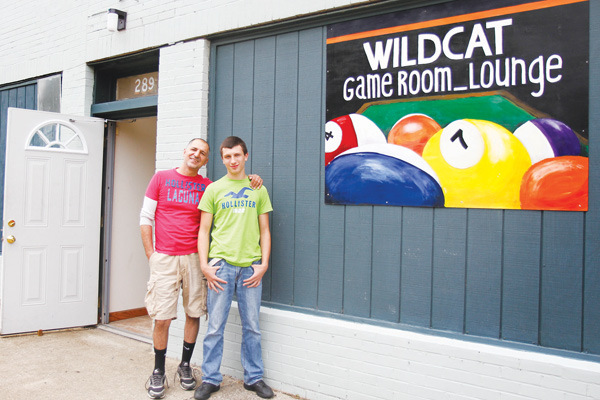 Photo
Sam Awadallah, left, opened a game room with the help of his 15-year-old son, Ridge, on Elm Street in Struthers. The pair hope to attract the after-school crowd to off er them a safe, fun environment for some leisure time.
By EMMALEE C. TORISK
STRUTHERS
The Wildcat Game Room and Lounge hasn't been open much longer than a month, but owner Sam Awadallah is eagerly anticipating the day he'll pass it on to his 15-year-old son, Ridge Awadallah.
The business is, after all, an idea for which Sam insists he can't claim any credit.
"[My son] realized how many kids were in the neighborhood and how many schools were located close by," Sam said. "Even with no advertising, there's already a small crowd in here."
And he's hopeful, too, that the after-school and weekend crowds will continue to grow, particularly as the 3,000-square-foot building at 289 Elm St. that houses the business inches closer and closer to his vision.
It already contains the basics: a jukebox, pool tables, a cooler for pop.
By midwinter, though, Sam wants a full-fledged arcade and snack counter to occupy the space, and for a coffee shop, complete with Wi-Fi, to provide older children and parents with a place to sit down, removed from the sound of clacking pool balls and beeping video games.
Maybe at that time, he added, he'll finally see a profit from the business.
Until then, whatever is earned from the Wildcat Game Room and Lounge goes directly toward paying the bills, Sam said, explaining that the point of its opening wasn't to make money. Admission is 50 cents for those 13 and older, and free for all others, a policy that Sam said he doesn't anticipate changing.
Like his son, Sam simply wanted to give the city's children and teenagers an alternate location to spend their free time — a safe but relatively informal place to play games, to hang out, to do their homework.
Plus, Sam, who grew up on Youngstown's South Side, recalled spending hours in similar game rooms and arcades as a kid. He said he wanted others to experience those "fun things" he did while growing up, too.
"These kids need to be brought back to the past," Sam said, adding that his business potentially could help keep some of the area's children out of trouble. "When they're here, they're good. It's better than what they were doing."
The business is open from 3 to 9 p.m. weekdays and from 1 to 10 p.m. weekends, and Sam said he'd like eventually to restrict and break up the day by age ranges.
So far, he hasn't run into too many issues with having younger and older children in the game room at the same time, but admitted that he has had to kick out a few of the older ones for "stupid stuff," such as swearing and smoking cigarettes in the parking lot.
"My rules here are to enjoy yourself and have fun until I tell you to stop," Sam said, adding that, overall, he assumes a laid-back attitude while monitoring the game room. "The older kids have to be civil to the younger kids."
Sisters Kayleigh and Mariah McCormick, who are 10 and 12 years old, respectively, said they've been coming to the Wildcat Game Room and Lounge for about a month, or, really, since it opened. While there, they typically spend hours doing homework or drawing pictures.
Their friend, 11-year- old Taylor Randall, often accompanies them to the game room and said she definitely plans to continue doing so.
"Sam's really nice," Taylor said. "We have a lot of fun here."
So does Ridge, who has helped run the game room since its opening, and has also been working at his father's businesses from the time he was about 6 years old.
Ridge said he likes that the Wildcat Game Room and Lounge gives area children a place to "do what they want," and also that it's one of the first steps toward achieving his goal: owning a business, particularly a convenience store.
"It's just something to get me started," Ridge said. "I hope it does good, that we get more stuff in here, and that it makes money."