Silly Science appeals even to small kids — and their parents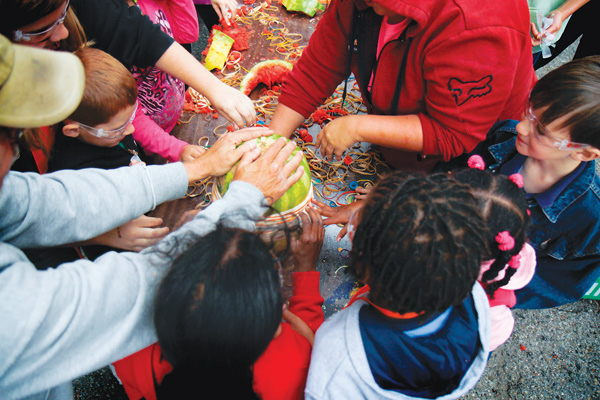 ---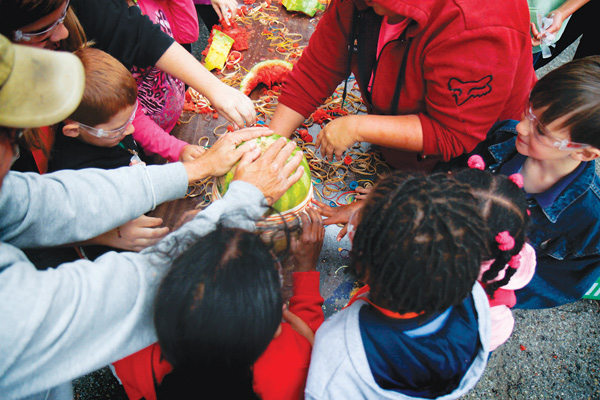 Photo
A group of participants wrap as many rubber bands around a watermelon as they can, causing it eventually to explode. The WOWtastic Watermelon Challenge was part of the Silly Science Sunday event on West Federal Street sponsored by the OH WOW! Children's Center for Science and Technology.
By Ed Runyan
YOUNGSTOWN
With girls ages 6 and 4 and a son, age 2, the Andre family of Liberty came out to Sunday's Silly Science event on West Federal Street to have fun and learn.
Four-year-old Kaitlyn has the science bug bad.
"OH WOW! is my favorite place," she said of the Children's Center for Science & Technology that sponsored the event and had its doors open so participants could use its exhibits.
Kaitlyn's father, Jason, an engineer and the director of operations at General Extrusions of Boardman, which makes aluminum extrusions, said one of the kids' favorite things on Sunday was playing with robots inside OH WOW!
But a watermelon explosion and a small-scale-but-realistic demonstration of steel-making also caught their eyes.
The events, which played out on the street before several hundred people in a one-block area, did more than provide explosions, smoke and other cool sights and sounds.
"When they see the STEM (science, technology, engineering and mathematics) things, I want them to ask why? What's going on — more than just it's just neat to look at," he said.
He found a steel-making demonstration by YSU chemistry professor Howard Mettee interesting because Mettee put an iron oxide (rust) and aluminum mixture together in the bottom of a flower pot, leaving room for a mixture of glycerol and potassium permanganate to be added at the top to raise the temperature to 1,000 degrees.
The chemical reaction caused a flash, an explosion, the breaking of the ceramic flower pot and the dropping of a piece of iron encased in slag into a pan of sand below.
The professor picked up the iron with a magnet to prove that it was metal.
"As simple as it is, it's neat," Jason said of the demonstration. "Two powders and out comes this little block of steel."
Jason said he became interested in mechanical and scientific things from his father, a motor inspector in steel mills, and he hopes his kids acquire similar interests.
"Growing up, I wanted to do the things he did and wanted to understand," Jason said. A trip to the engineering department at Youngstown State when he was in middle school cemented his interest.
"I don't want them to look at something and just say, "That's the way it is." Jason said the study of STEM fields is about asking "How? How do I make it better, faster, easier."
Andre said it's especially important for his daughters to get a good start in sciences because they have been traditionally a male-dominated area.
"They pick up something every time they come here," their mother, Shannon, said of the third-year Silly Science event and their trips to OH WOW!
YSU Chemistry Professor Clovis Linkous gave a demonstration using a photovoltaic cell to generate energy to decompose water and make hydrogen that operated a small car.
He and a child helper generated 2.6 volts of electricity with the cell, as evidenced by bubbles rising in a small container that captured the hydrogen.
"Maybe someday — there are cars now that run partially off of electricity — maybe some day we'll have big batteries that have stored energy that run vehicles," Linkous said.
Madonna Pinkard of WFMJ-TV 21, host of the Silly Science event, said she gets excited when kids have an opportunity to learn science because she received her bachelor's degree in combined sciences at YSU.
"Where else can you go on a Sunday afternoon and see steel being made?" she said.
Martin Abraham, director of YSU's STEM College, said he especially enjoys seeing the smaller kids enjoying science.
"They don't even realize they're learning," he said. "They're having fun and learning too."