Proceeds go to Struthers shop with a cop program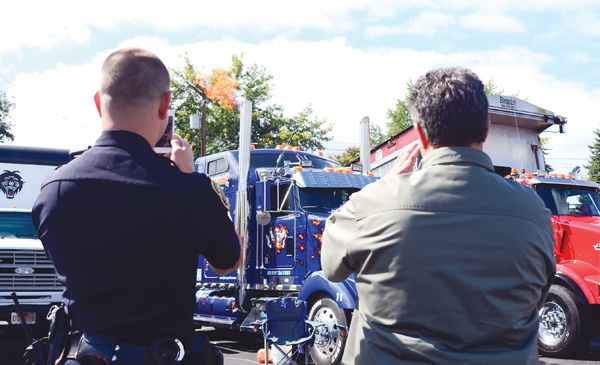 ---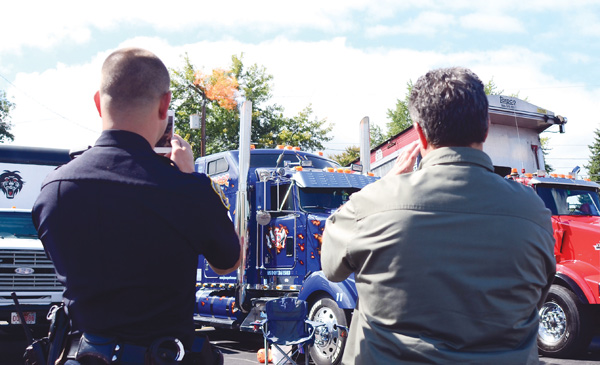 Photo
Police officer D.J. Aldish, left, and Donny Bovo, both of Struthers, take pictures of the flames and smoke coming from a truck at the Show with a Cop car show in Struthers on Sunday. Bovo said he came out to see some of his friends and to give a donation to the charity. Proceeds from the event go toward the Struthers Shop with a Cop program in which children from low-income families are given $100 each and taken shopping with officers to brighten their Christmas.
Proceeds go to Struthers shop with a cop program
By Sean Barron
STRUTHERS
Nearly five decades ago, Jerry Migletz's late father had no credit card or bank account, so when he bought a new 1965 Chevrolet, he paid about $3,100 in cash up front.
At the time, the Poland Township man had no way of knowing that his father's deep-aqua 1965 Chevrolet Impala would one day be a vehicle by which to help children in need.
That day came Sunday, because his Impala, sporting a 283 V8 engine and power-glide transmission, was part of a car-show fundraiser at the Fifth Street Plaza.
Proceeds from the six-hour gathering will go toward the third annual Struthers Shop with a Cop program set for Dec. 22.
Eligible children in need are given $100 each with which they can buy clothing and toys, noted Capt. Pat C. Bundy of the Struthers Police Department.
One of the program's primary aims is to brighten the youngsters' holidays, said Bundy, who's been with the department about 30 years.
Migletz, who also got married in 1965, recalled his father's having bought the Impala vehicle at the former State Chevrolet on Wick Avenue on Youngstown's North Side. When his father died in 1992, the car was transferred to Migletz, he explained.
"When I got this one, I wanted to keep it in the shape it was in. I just want to keep it in the family, " Migletz said, adding that the Impala has about 31,400 miles and gets roughly 25 mpg on the highway.
A sample of vintage vehicles that greeted attendees included a bright purple 1968 Chevrolet Nova SS, a 1960 Ford F-100 truck with the original speedometer and panels, a cream and brown two-door 1947 Dodge Coupe, a sky-blue 1954 Buick Roadmaster with solid-dark-blue seats, a black 1989 four-door Mercedes Benz with a sunroof and a yellow 2003 Dodge SRT.
Also on hand was a 6,600-pound 1932 Henney three-way hearse that was built for Plymouth Meeting, Pa.-based Kirk & Nice Funeral Home, said to be the nation's first funeral home. That vehicle had several owners over the years.
Bill Patterson of Lowellville took a few minutes to add a bit of shine to his gray 1952 Studebaker, which he found rusting in an Indiana, Pa., barn a few years ago.
"It took me about a year-and-a-half to get it ready," Patterson explained,
noting that the 232 V8 engine, three-speed transmission and most other parts are original.
When he was 15, Patterson said, his father gave him a 1947 Studebaker, which he had for nearly three years before selling it to buy a 1955 Chevrolet convertible. His current vehicle features front wrap-around windows, newer chrome and door panels as well as original seats, and gets between 22 and 25 mpg, he added.
The Struthers Police Department's Bundy said that last year's Shop with a Cop event reached out to 67 children, most of whom were referred by schools, teachers and fellow officers.
"We stormed Walmart last year," the captain said with laughter.
In addition, the effort helps build the young people's self-esteem while allowing them an opportunity to view safety-force members in positive ways, he pointed out.
"The kids are so grateful," Bundy said. "It helps them see the cops in a little different light."