Dinner at inn honors couple for 65th anniversary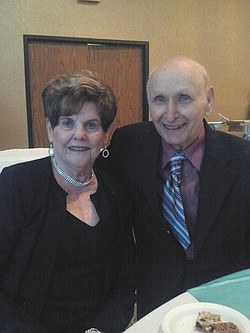 Photo
Mr. and Mrs. Paul Lesigonich
BOARDMAN
Paul and Peggy Lesigonich of Boardman celebrated their 65th anniversary at the Welshfield Inn in Burton, Ohio.
The celebration included their children, Joyce Padavick of Chagrin Falls; Peggy and Chris Smith of Milan; and Debbie and T.J. Campana of Struthers. A son, Paul Lesigonich Jr., is deceased.
The couple were married Sept. 18, 1948, at Villa Maria Chapel in Villa Maria, Pa.
Mr. Lesigonich was part owner of Baxter Furnace for many years and was a member of Sheet Metal Workers Union Local 5 and 33. He is a U.S. Army veteran and played in the Army band and on its baseball team, which won a championship.
Mrs. Lesigonich was a supervisor at Plaza Maintenance and retired from Giant Eagle, where she worked in the bakery. She was a demonstration representative for Sam's Club.
The couple are members of St. Anne Ukrainian Church in Austintown and St. Dominic Church in Youngstown.