Bagnolas mark 65th anniversary at Fifth Season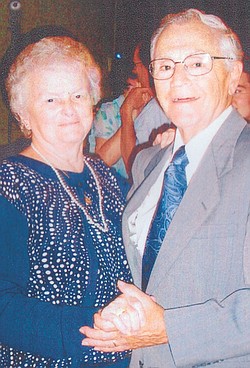 Photo
Mr. and Mrs. Dominic Bagnola
CANTON
The family of Dominic and Beverly Bagnola honored the couple for their 65th wedding anniversary.
Joann Bagnola, their daughter-in-law, hosted a dinner celebration in April at The Fifth Season in Austintown. The Bagnolas, of Canton, were married May 8, 1948, at St. Anthony Church, where they are members.
They have four children: Jim Bagnola of Austin, Texas; John Bagnola of Austintown; Dean Bagnola of Canton; and Theresa Bagnola Sickler of Fairfield, Iowa. The family includes five grandchildren: Julia, Aaron, Dino and Christiana Bagnola; and Angela Sickler.
Mrs. Bagnola, the former Beverly Sibert, at one time owned a home business, Bee Line, and she has worked in sales for several department stores in the Canton area.
Mr. Bagnola retired from Diebold in Canton at age 64. He enjoyed a long stint as an amateur baseball player, which led to his induction into the Canton Amateur Sports Hall of Fame in 1988. He played ball against other countries when he served in the Army in Japan for two years. Mr. Bagnola retired from baseball at 80.
Those who wish to congratulate the Bagnolas may send cards to John Bagnola at Treasured Moments Video, 46 N. Meridian Road, Youngstown, OH 44509.