Alessi's five TDs helps South Range topple Crestview
Alessi's five TDs helps South Range topple Crestview
By Joe scalzo
Crestview vs South Range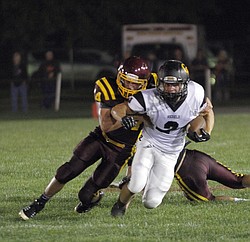 Gallery
Team

| Record | Div. | Conf. |
| --- | --- | --- |
| 6/4 | Div. V | Independents |
Team

| Record | Div. | Conf. |
| --- | --- | --- |
| 13/1 | Div. V | Independents |
North Lima
After South Range linebackers coach David Rach had told senior DL David Ruiz to "Go get your crowd excited" and after head coach Dan Yeagley had joked about letting the Raiders sleep in until 9 a.m. today and after Ruiz had asked "Will there be donuts?" there was nothing left but a quiet group of high school kids kneeling near the end zone, listening to Yeagley speak after the biggest win of their lives.
"Listen," Yeagley said. "You can't let this go to your head."
It was perfect advice for a team that hadn't beaten Crestview since 2007, and perfect advice for a program that measures itself by league titles and playoff victories, not 4-0 starts.
That said ...
"It's finally a great feeling to put them down and be No. 1," said Joe Alessi, who ran for 224 yards and five TDs to help the Raiders beat the Rebels 49-35. "The whole team knew what to do, we've been preparing for this the whole entire season and we came out and played."
No one played better than Alessi, a brace-faced junior running back who is generously listed at 5-foot-9 and 175 pounds. His small, but speedy, frame carried the load Friday night because senior Billy Goodall was sick all week.
Alessi had more than 200 yards and four TDs by halftime — all five of his touchdowns went for 10 yards or more — and the Rebels weren't the only ones he wore out. Fifteen minutes after the game was over, Alessi was standing in front of the home bleachers when someone shouted down, "Hey Joe, you tired?"
He laughed and said, "A little bit."
Of course, Alessi's ability to find the end zone when he reached the second level of Crestview's defense never would have happened if he hadn't gotten to the second level, and he gave plenty of credit to his line. (Take a bow, Garrett Sorley, Zach Baird, Evan Schaefer, Ryan Haynes and Ben Farmer. You, too, tight end Adam Witmer and fullback David McCabe.)
"I have a great line," Alessi said. "They did what they had to do."
South Range led for most of the game, but the Raiders didn't put it away until McCabe's 15-yard TD run with about two minutes left gave them a 49-28 lead.
Crestview senior quarterback Collin Gilbert was typically outstanding, running for 124 yards and a touchdown and throwing for another 71 yards and a TD.
But the Rebels surrendered 337 yards on the ground as their 22-game regular season winning streak ended.
"Unfortunately, it had to happen eventually," Rebels coach Paul Cusick said of the streak. "The reality of it was we were just outplayed tonight. I told our guys, sometimes you just get beat by a better team. South Range was better than us and we've got to man up and get better this week.
"This is going to reveal our character. We'll see what kind of character we have on this team this week."
Crestview has won the last five Inter Tri-County League Tier One titles, including the last four outright, so no one expects the Rebels to go away.
But if the Raiders keep playing like they did on Friday, they'll end the regular season with a donut.
You'll find it right next to a 10.
"That's [Crestview] a program and you've got to beat a program by playing as a team," Yeagley said. "We weren't a group of individuals tonight. We were a true team."