Fitch backs storm through Dover
By Tom Williams
Dover vs Fitch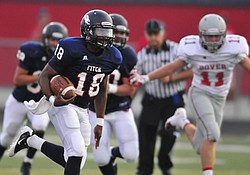 Gallery
AUSTINTOWN
After passing for a 79-yard touchdown to tie the game and recovering an onside kick, the Dover High football team had seized momentum from Fitch.
Soon, it was gone with the wind.
An interception by Falcons defensive back Gary Gibson and three long scoring drives propelled the Falcons to a 20-point halftime lead on their way to Friday's 41-7 victory.
"They had all the momentum," Falcons coach Phil Annarella said of when the Tornadoes tied the game. Dover quarterback Kyle Abel hit Cory Contini about 20 yards downfield and the speedy wide receiver sprinted to the end zone. "And we knew they were going to onside kick; we practiced it all week.
"But we pulled it together," Annarella said. "Our kids played with a lot of intensity. They studied the game plan hard this week."
The Falcons (4-0), the fifth-ranked team in this week's Associated Press poll of Ohio's Division I teams, took charge after the pickoff, rolling 67 yards on four plays. Tailback Darrin Hall broke loose for a 41-yard touchdown.
"Whenever my line blocks like that, it's always going to be a good night for me," said Hall who finished with 245 yards on 29 carries.
The Tornadoes struggled to stop the Falcons' rushing attack which gained 531 yards on 67 carries.
"The line did a good job; you don't move the ball like that unless there are some key blocks being thrown," said Annarella, referring to linemen Ryan Sayers, Matt Fusillo, Chuck Zaborsky, Jose Rodriguez and Bob LaRubbio. "They are unsung heroes."
The Tornadoes' next series ended with Abel's 72-yard punt to the 3. The Falcons responded with a seven-play, 97-yard march capped by Tyler Hewett's 1-yard touchdown run for a 21-7 lead.
Quarterback Antwan Harris, who rushed 11 times for 150 yards, set up the score with a 38-yard run to the 1.
Late in the second quarter, Falcons defensive back Damien Gray intercepted Merrick Mamarella to set up the Falcons' fourth score, a 24-yard run by Joey Harrington.
"We're good at bouncing back," Hall said. "When something bad happens, we come back on the next series and get the job done. Our defense is outstanding."
In the second quarter, the Falcons rushed for 196 yards on 19 carries against Dover (3-1), this week's No. 3 Division III squad.
"They are a good team," Annarella said. "All it takes is a couple of those bombs to get you back into the game."
Against Canfield, Abel passed for more than 400 yards in a 53-24 win. Friday, he completed 11 of 29 attempts for 126 yards.
"Watching film, [it appeared] they never had pressure put on them like our defense puts on," Sayers said. "We just flew to the ball," Sayers said. "They couldn't handle it."