Youngstown mayoral debate turns personal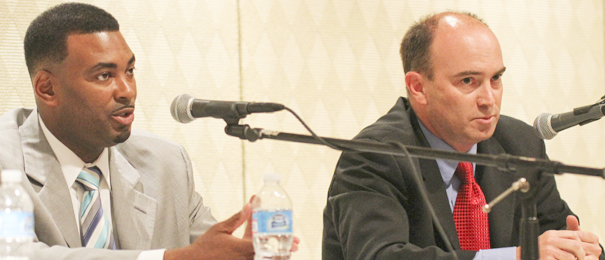 ---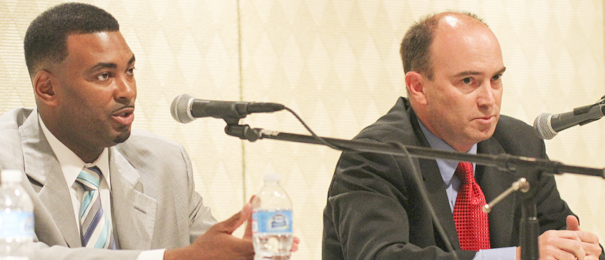 Photo
Youngstown mayoral candidates Demaine Kitchen and John McNally trade verbal jabs during Thursday night's debate at the Davis Center in Fellows Riverside Gardens.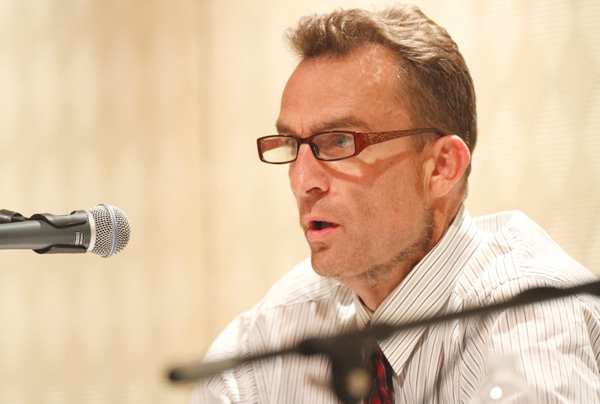 Photo
Mayoral hopeful John Crea participated in the debate after being released from the county jail only hours earlier.
RELATED: • Kitchen says his financial issues are resolved
• Youngstown mayoral candidate was in jail since Aug. 30
By DAVID SKOLNICK
skolnick@vindy.com
YOUNGSTOWN
The Youngstown mayoral debate between three of the candidates was largely civil until the discussion turned to Democrat John McNally IV's indictment, dismissed two years ago, on political corruption charges.
In response to a question about the candidates' criminal or civil issues, DeMaine Kitchen, an independent candidate, said McNally had lied under oath, perjured himself and was accused of bribery.
When pressed further, Kitchen backed away ,saying he was only quoting from an article in The Vindicator about McNally.
The charges — related to McNally's opposition to Mahoning County's purchase of Oakhill Renaissance Center when he was a county commissioner — were dropped in July 2011.
That came at the request of special prosecutors who said their inability to obtain tape recordings held by the FBI supposedly related to the case made it impossible to proceed.
McNally has long maintained his innocence and continued to do so at Thursday's debate at the D.D. and Velma Davis Education & Visitor Center at Mill Creek MetroParks' Fellows Riverside Gardens, sponsored by the 7th Ward Citizens' Coalition.
Kitchen's delinquent tax issues and other financial problems were also discussed during the debate.
"A past-due bill versus an indictment" is "night and day" in its difference, Kitchen said.
He also said "those issues were before I was in office."
But his issues go deeper than a past-due bill, and many of them occurred while he was a 2nd Ward councilman and the mayor's chief of staff/secretary.
Among them are his failure until Thursday to pay $2,394.08 in delinquent property taxes on his home, and having to have his wages garnished in 2010 for $478.05 in unpaid income tax owed to the city.
"DeMaine has gotten past these issues, but they are still a concern," McNally said.
John M. Crea, an independent candidate, also participated in the debate. Only hours earlier, he was released after three weeks from the county jail. He was found guilty Thursday of aggravated menacing and disorderly conduct.
"I came from county lock-up to here," he said.
Kitchen and McNally touted their experience as being greater than their opponents.
Kitchen is a former councilman who's served as chief of staff/secretary since August 2011. McNally spent seven years in the city law department, most as its director, and eight years as a county commissioner.
The three discussed issues such as demolition, the involvement of the mayor in education issues and the future of the Covelli Centre.
Also, county Democratic Party Chairman David Betras was visibly angered by the support of Kitchen by three party executive committee members — Councilwoman Annie Gillam, D-1st; her husband, Artis, a former councilman; and Councilman T.J. Rodgers.
Betras said he is removing the three from the committee today because of their support of Kitchen, and if any of them run for office, he would actively seek candidates to challenge them.
The county Democratic chairman appoints all executive committee members.
Betras also demanded the resignation of Jaladah Aslam as the party's vice chairwoman of labor relations if she doesn't endorse McNally. Aslam and Betras had a dispute last year when she supported a Republican judge over the Democratic-endorsed challenger.
While he doesn't have the authority to remove her from the post, Betras said he would do so anyway, absent a public McNally endorsement, and "she can sue me. Enough's enough."
Reached by telephone by The Vindicator, Aslam, who lives in Austintown, said she has no plans to endorse McNally and at this point has no intention of supporting either McNally or Kitchen.
"If he's going to be confrontational and demand everyone who supports DeMaine be kicked out of the party then he's going to lose a lot of support in the African-American community," Aslam said of Betras.