Small World shelter struggling to find families for abandoned creatures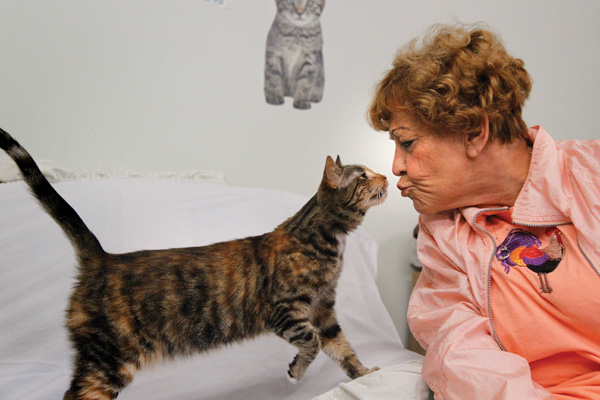 ---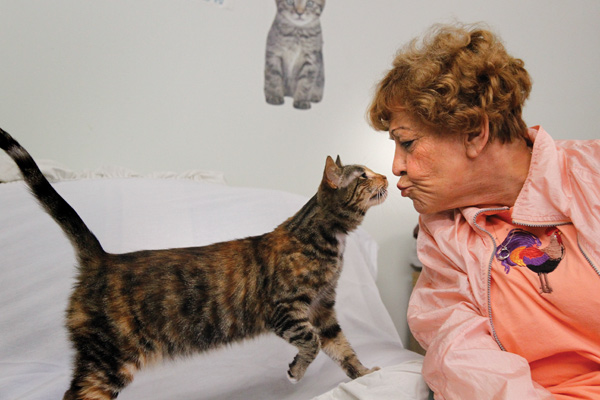 Photo
Veronica Caruso, a founder of the Small World animal shelter in Girard, greets one of the 27 cats that live in the shelter at 945 State St. The shelter appreciates donations, but the founders really want homes for their animals.
Animal shelter in Girard tries to stay open
By Jeanne Starmack
Girard
It happened again Monday morning.
Someone left a box of kittens on the doorstep at the Small World Animal Shelter at the corner of North State and Smithsonian streets. Before they were found, some of those kittens climbed out of the box and got killed on the road.
Drop-offs — just one more frustration for the founders of the shelter, which opened in January. Now they are struggling to keep a roof over the 27 cats that live there. The shelter has one dog for adoption, a beagle-mix puppy. But he lives elsewhere.
Inside the shelter, it is indeed the cats' own little world.
The rented building at 945 State Street is cozy, and it's clean and cheerful.
The cats range from 3 months to 8 years old, and they come from anywhere and everywhere, said Veronica Caruso, who runs Small World. There's a range in temperaments and personalities as well.
Heather is a calico who has a whole lot of catitude. She's named after the woman at a vet clinic in Champion who brought her in. "She's fiesty but friendly, Caruso said.
Handsome, a large tiger cat who was feral, is tame now but shy. He'll tuck his head under your arm and rest timidly on your lap. He came from a trailer park in Findlay, Ohio, where someone was poisoning the feral colony.
Sam was found at the Rite Aid on State Street. A mother and son felt sorry for the friendly gray tiger and brought him in.
Isaac, a large, calm, purebred Siamese, is an abandoned pet from Hubbard.
Black-and-white Licorice was found on a road in Warren.
Even though they have their differences, the cats have two things in common.
They can all go to homes with kids, dogs or other cats.
And they all like to watch Judge Judy on TV.
Caruso isn't sure why, but she has a theory. "She's very demonstrative," Caruso said. "She moves."
Small World runs on donations and on money from garage sales. Utilities cost $1,000 a month, and food costs $400, they said.
The shelter founders try to make life happy for the cats, with carpeted cat trees and plenty of toys.
"They like us," Caruso said. "But they need to be in homes with a family."
They also make sure the cats are healthy before they are adopted, with all their necessary tests and shots.
They ask for a $100 donation to adopt a kitten; $50 for a cat from 1 to 5 years old; and $35 for older cats.
They said they appreciate donations, but what they really want is for their cats to be adopted.
The shelter is open from 1 to 4 p.m. Mondays through Fridays. Saturday and Sunday visits require an appointment. Call 330-980-3685 or 330-727-1878.