Rotary of Club Canfield announces district governor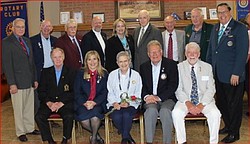 Photo
Neighbors | Submitted.Attending the announcement of Sieglinde Warren as the District Governor for 2016-2017 were past, present, and future district governors (front) George Windate, current District Governor Debbie Esbenshade, Sieglinde Warren, Larry Warren, Jack E. Polin; (back) Dallas Woodall, Bob Pattison, Jim Russell, George W. S. Hays, Chair of the Selection Committee Linda Fergason, Michael Sabol, Phil Mariola, Dennis Hoffman, and Geoff Goll.
More than a dozen district governors attended the weekly meeting of the Rotary Club of Canfield as part of the announcement that Canfield Rotarian Sieglinde Warren had been selected to be the Rotary District 6650 Governor for 2016-2017.
The 6650 district stretches from Wooster to the Pennsylvania and West Virgina State lines and from Kinsman to Steubenville. It includes 48 clubs and covers roughly 20 percent of the state of Ohio.
Sieglinde is only the second district governor from Canfield in its 58-year history.
She is a past resident of the club, a past assistant district governor for the six clubs in Mahoning county, and the past advisor for the Canfield High School Interact Club.
She also helped to start the Rotaract Club at Youngstown State University, has been actively involved in the RYLA (Rotary Youth Leadership Award) program, and has been a leader at the club, district and national level in Rotary Youth Exchange. This will be a first for the district in that Sieglinde is half of the first husband and wife District Governor duo; her husband Larry was District Governor in 2003-2004.