McCoy participates in national workshop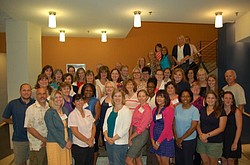 Photo
Neighbors | Submitted .Korisa McCoy (third from the left) was one of 40 teachers nationwide chose to participate in a food science training program.
Korisa McCoy, a teacher at Poland Middle School, was one of 40 teachers nationwide chosen to participate in a food science training program developed and implemented in a partnership between the Food and Drug Administration (FDA), the National Science Teachers Association (NSTA) and Graduate School USA.
The one-week program for middle and high school science teachers, as well as family and consumer science and health education teachers, took place in Washington this summer.
The goal of the program is to educate teachers and students about critical food safety issues such as foodborne illnesses by exploring the science behind them. The program arms teachers with a unique new topic and curriculum with which to teach science. In addition, participants learn about nutrition, food allergies, cosmetics safety and color additives from FDA experts. The teachers also receive nutrition material to help teach their students how to use the Nutrition Facts Label to make better food choices.
McCoy said the workshop was a once-in-a-lifetime opportunity that allowed her to further her knowledge of food science.
"I will be able to use the curriculum in the classroom to bring to life the reasons why we do things for food safety in the cooking labs. For example, instead of telling students that they need to cook hamburger to 160 degrees Fahrenheit for food safety, I will be able to show them why," said McCoy.
For information on this curriculum and information on how to apply to participate in the FDA Food Science Professional Development Program in Summer 2014, email isabelle.howes@graduateschool.edu.