Little Falcons take on Bulldogs

Photo
Neighbors | Submitted.A Falcon 140 pound player is shown scoring an extra point at the game against Poland Sept. 15.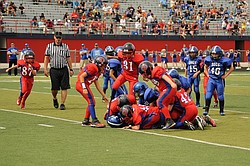 Photo
Neighbors | Submitted.A host of Falcons 120 pound players are shown tackling the Poland ball carrier at the game Sept. 15.

Photo
Neighbors | Submitted.Sammy Savo (left), an Austintown Little Falcon 100 pound player, is shown running into the end zone at the game against Poland Sept. 15.
The Austintown Little Falcons played the Poland Little Bulldogs Sept. 15 at Fitch Falcon Stadium.
In the 100 pound game, The Falcons dominated the Bulldogs with a score of 28-0. The Falcons remained undefeated, raising their record to 4-0 using big plays early to score, and ball control to maintain a big time of position edge while chewing up the game clock. Cameron Smith scored two touchdowns and Terrance Pankey matched that plus a conversion run to lead the offense. Sam Savo added a conversion score and played well on defense while Reuben Traylor Jr. recovered two Poland fumbles and John Cambert pounced on one to preserve the Falcon shutout.
The Bulldogs claimed victory in the 120 pound match, defeating the Falcons 28-0. The Falcons played hard throughout the game, but their efforts did not translate to the scoreboard as the team slipped to 0-4. C.J. Schisler, Ryan Gordon, Matthew Scannell, Justin Mosser and Logan Pugh all played well in defeat for the Falcons.
In the 140 pound game, the Falcons defeated the Bulldogs 20-0. Drew Bretsik tallied for two touchdowns, Michael Wilson scored one touchdown and Donovan Jones added a conversion run to lead the offense. David Gunger and Logan Italliano cleared the way with devastating blocks to spring loose their teammates as the Falcons improved their record to 3-1. Christopher Scott, Cedric Ross, Richard Edwards and Austin Gartner turned in outstanding play on defense to help keep the Bulldogs off of the scoreboard.
The Falcons will travel to Boardman Sept. 22 to take on the Spartans. The 100 pound game starts at noon followed by the 120 pound game and then the 140 pound game.