Hubbard volleyball sweeps Howland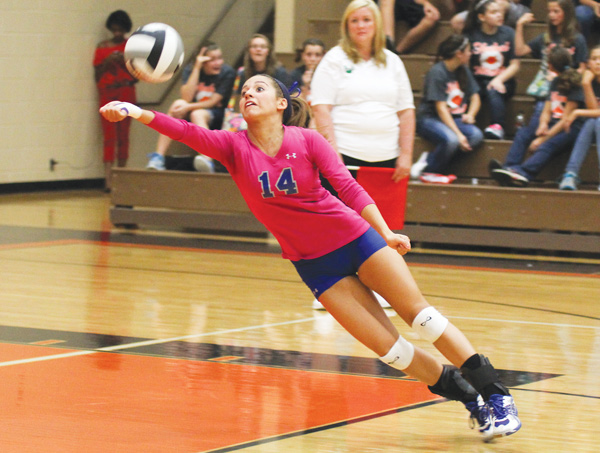 ---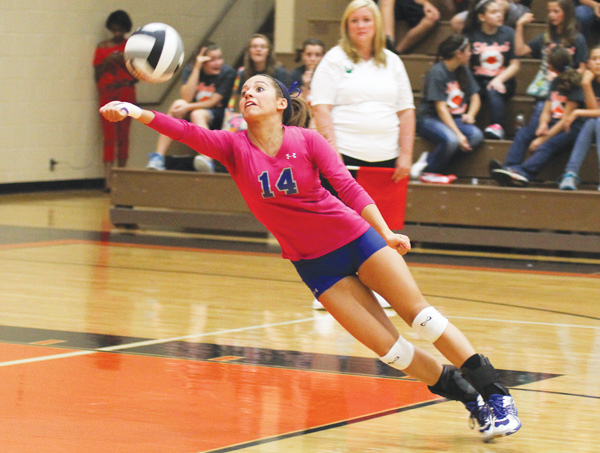 Photo
Hubbard's Kiana Martinez (14) dives after the ball during Thursday night's matchup against Howland at Howland High School.
By TIM CLEVELAND
HOWLAND
As the Hubbard volleyball team has entered the middle of its season, Eagles coach Jeremy Porter feels his team is getting better and better.
"I think we've been improving each night and we're getting better and better and moving toward our goals at the end of the season to do well in the district playoffs," he said.
That trend continued Thursday night, as Hubbard rolled to a 25-15, 25-12, 25-13 victory over underpowered Howland.
"I don't think the scores really represented how well we actually played," Howland coach Amanda Lingenfelter said. "I think that's what we've been playing for is the improvement factor, playing better volleyball every match that we do. We are actually starting to do that more."
While the Tigers stayed close in the early going of every game against Hubbard (8-3), they were unable to keep the Eagles from pulling away each time.
The leading performer for Hubbard was Macey Sarisky. She led the Eagles with 12 service points, including the final two in Game 2 and the final three to close out the match.
"She's a very good player," Porter said. "She's been playing for a long time and she's a great kid to coach. She does a very nice job for us."
With Game 1 tied 6-6, Hubbard went on a run led by Caitlin O'Hara. The junior had two service points to break the tie, then she had a kill for a 17-11 lead. She finished off the game with three more service points.
Christian Carr did her best to keep Howland (4-10) in the match. She led the Tigers with 10 kills. Her kill in the first game brought her team to within 13-10 and she added another in Game 3 to tie it 4-4.
"My lone junior, Christian Carr, really stepped up," Lingenfelter said. "She's been stepping into a huge leadership role that we had a gap in the early part of the season. She's stepping into it as a junior and we're really looking to her to play well."
While Hubbard is one of the best teams in the area, Howland is an extremely young team with just one junior and the rest being freshmen and sophomores.
Lingenfelter said playing a squad like the Eagles helped Howland up its game and bring more fans out to the match.
"There's a little bit of history there that we got a little bit bigger crowd than usual," she said. "The girls know it's a rivalry now and we come to play hard every point. We hope to battle with them."
Conversely, Porter said despite the youth of the Tigers he kept his team focused.
"Just talk about being able to focus and play our game; worry about what's going on on our side of the net and run some of our plays and play like we would against anybody else," he said. "I don't think we really let down at all during the match, at all. It's really good to see a group of high school kids can do that."