Fitch volleyball rallies past Struthers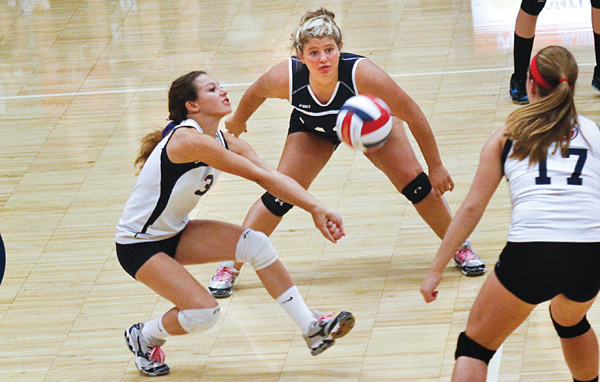 ---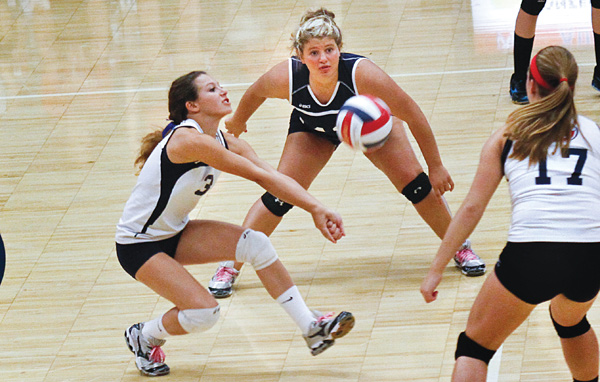 Photo
Fitch's Cali Mikovich (3) digs the ball while Alex Corradi (43) and Sydney Greenwood (17) watch Thursday night.
By Greg Gulas
AUSTINTOWN
The last time Austintown Fitch met Struthers, it took five games before the Falcons could finally secure their initial All-American Conference victory.
After dropping the first game Thursday to their league counterparts, host Fitch swept the final three contests, putting an end to its modest two-game skid.
The Falcons (9-4, 8-1) stopped the Wildcats 23-25, 25-22, 25-15 and 25-16, winning the final three contests by a combined 75-53 count after what coach Steve Mohr called a shaky first outing.
"We're in a rebuilding mode and despite our struggles the past two games against non-conference foes Salem and Cardinal Mooney, we've played really well as a team this season," Mohr said. "Any league win is a big win, but more so when you win in front of your home fans. While Struthers had the momentum at the outset, the key tonight was that we took it back in the second game and never gave it up."
Five points by the Wildcats' Linnea Mims staked Struthers to the early 6-1 advantage in the opener, but the Falcons' Taylor Herman added eight points of her own for a 16-13 Falcons margin.
Struthers (7-6, 2-4) then outscored Fitch, 12-7 the rest of the way for the opening game victory.
After falling behind 8-5 in the second fray, four points by Herman helped Fitch build a 10-8 lead they would not relinquish as they evened the match at a game apiece.
"Even though we defeated Struthers the first time we met, staying focused was the key for us tonight," Sarah Obradovich said. "I just want to credit my teammates for giving me the opportunity to keep serving."
Obradovich, an outside hitter and setter, finished with two aces, 18 kills, 16 assists and nine digs.
Five points by Alex Connors helped Fitch build a 21-12 margin in the third game as they posted a 25-15 victory, while in the final game of the night, Katarina Lewis scored her team's first seven points. The Falcons built a 21-15 lead as they settled for a 25-16 victory to win three of the final four contests.
Maura Bianco, who had 12 kills, three blocks and an ace, called the win very big because it was a league victory.
"We've had a good week of practice, remained positive despite our recent struggles and worked together tonight as a team," Bianco said. "We're now 5-1 at home and one of our goals this season was to defend our home court. We really enjoy playing in front the home fans."
Struthers coach Stephanie Muntean said the Wildcat's inability to maintain momentum proved to be their downfall.
"After the first game their hitters started attacking and we just couldn't rebound," she said. "We didn't move our feet, made some untimely passes and they took advantage of their opportunities; we did not."
Holly Kane had seven kills, six digs and three blocks while Halle Smrek added nine assists, eight digs and an ace for the Wildcats.
Lindsey Opritza also had four kills and two digs for Struthers.