Austintown Colts topple Howland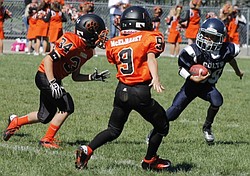 Photo
Neighbors | Submitted.Dominic Perry (right) is shown taking on the Tigers for a Colts touchdown at the game Sept. 14 .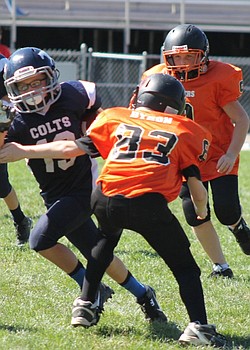 Photo
Neighbors | Submitted.Lorenzo Russo (left) is pictured on the drive for a Colts touchdown against the Howland Tigers Sept. 14 .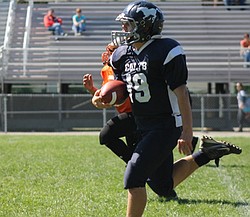 Photo
Neighbors | Submitted.Dakota Edwards scores early for the Colts in the 140 pound game against the Howland Tigers Sept. 14.
The Austintown Colts took on the Howland Little Tigers Sept. 14.
The Colts 100 pound team fought a hard battle with the Tigers. Dominic Perry, Jayden Eley and Javonte Betts drove the field to score touchdownss and two-point conversions for the Colts, while Landen Bister and Xavier Amireh took control of the defense. The final score of the match was 22-14. The Colts have been the only team to score against the Howland Little Tigers so far this season.
With another stellar performance by the 120 pound squad, the Colts remain undefeated through mid season. Donovan Oliver and KyRee Long both scoring touchdowns as well as two-point conversions against the tough Tiger defense, while Michael Hileman, Tommy Cannell and Colin Roberts on defense held the Little Tigers scoreless. The final score 22-0.
The Austintown Colts 140 pound team continues to improve with each week, taking a victory over the Tigers of 38-0 with multiple touchdowns and two-point conversions by Kris Scandy, Lorenzo Russo, Dakota Edwards, AJ Winterburn, and Cole Tidswell. The Colts defense was also on a roll with interceptions by Kris Scandy, Dyllen Gibbs and Brennan Banko. The Colts will take on the Poland Little Bulldogs Sept. 22 at Fitch Stadium.