Ty's goal is to go to his school's homecoming dance Sept. 28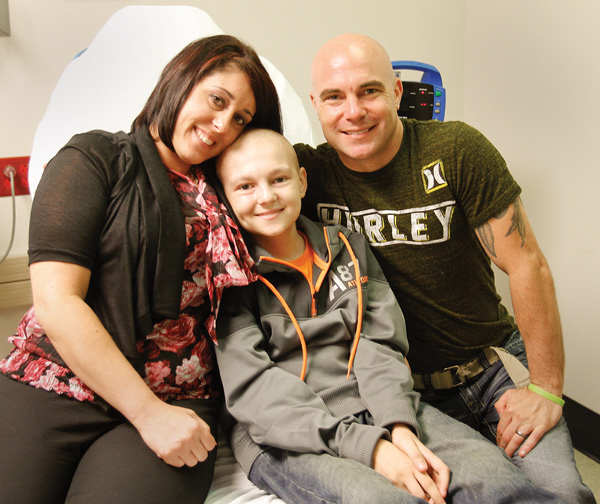 ---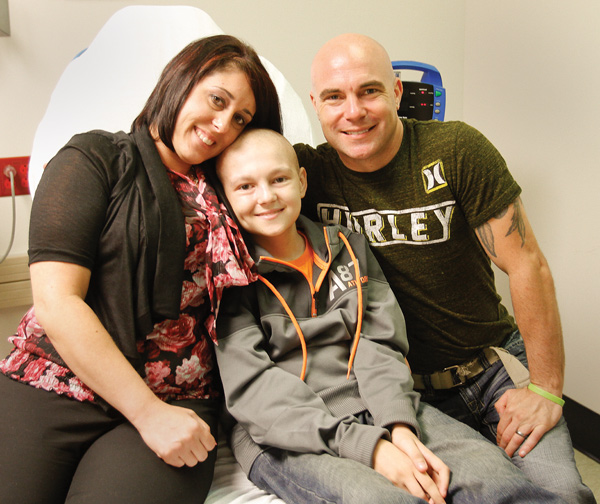 Photo
Ty Cook, 14, recovering from brain-cancer surgery and nearly a year of radiation and chemotherapy, sits on an examination table at Akron Children's Hospital Mahoning Valley with his parents, Angela and Shawn Cook. Ty, a freshman at Struthers High School, was back in the classroom last week for the first time in about a year.
STRUTHERS
Ty Anthony Cook's goal is to go to the Struthers High School homecoming dance Sept. 28, almost a year to the day from when he underwent brain surgery and learned he had cancer.
Free of cancer at the moment but still undergoing chemotherapy, it isn't getting a date or learning a couple of moves that leaves that goal still in doubt.
It's his low white blood-cell count, a decrease in disease-fighting cells circulating in his blood, the product of nearly a year of radiation and chemotherapy treatments.
But the freshman has hit some of his immediate goals: He started school Sept. 10 and came home last Friday and said he was going to the varsity football game.
"It's his first outing with friends," said his mother, Angela Cook.
Because of concern for infection, the last time Ty was in a regular classroom was the first two weeks of the 2012 school year. He has been tutored at home by Mary Bundy, his father's aunt.
The school is willing to do anything to accommodate him. He has been in advanced and honors classes since fourth grade, said Ty's father, Shawn.
Ty, 14, is the grandson of Anthony and Marlane Centofanti of Struthers, his mother's parents; Mark Cook of Struthers, Shawn's father; and Mary Ann and Norm Rice of Maine, Shawn's mother and stepfather.
His brothers, Jacob Fricker, 15, and Seth Cook, 16, also are students at Struthers High.
"The relationship between Ty and his brothers is hard to explain," Angela said. "They don't hang around with him too much. I don't think they know what to say to him. They don't understand what Ty is going through ... how much he wishes he could just go out and play. They don't know how that feels."
"They need attention, too," Shawn said of the older siblings.
Ty, who smiles a lot, is philosophical about his cancer, medulloblastoma, a common childhood brain cancer, and mature in his thinking and outlook beyond his 14 years.
"It's all hard. Staying positive ... that's all you can do. If you are negative, it makes it worse. Smiling makes it easier," he said.
"There are no 'pity parties' at our house," said Shawn, who works at Fireline in Youngstown and is a martial-arts competitor. He was an instructor at ATA Black Belt Academy in Poland until Ty, who is a second-degree black belt, became ill.
Shawn has had several spinal surgeries, and Angela, who is office manager for Dental Works in Beaver Valley, Pa., was diagnosed with multiple sclerosis in 2011.
"Laughter is the best medicine," said Ty, who has learned more than most about medications since his surgery Sept. 27, 2012.
"He has handled this with maturity and grace," said Dr. Sarah Rush, director of neuro-oncology at Akron Children's Hospital. His primary physician is Dr. Stephanie Savelli, director of the Cancer Survivorship and Pediatric Hematology-Oncology Fellowship programs and Divisional Education at Akron Children's.
The brain tumor was diagnosed Sept. 24, 2012, and three days later, during the surgery, doctors learned it was cancerous.
"Ty had been throwing up. We thought he had the flu," his mother said.
Ty's life then became a round of seven weeks of radiation treatments, beginning Oct. 29, 2012, followed by a four-week break before starting 44 weeks of chemotherapy.
The radiation burned him so badly internally he was constipated for two weeks, his father said.
The hardest thing has been that he has not been able to play with his friends outside. That's why going to the football game was so big, his mother said.
And his hair, including his eyebrows, came out.
"It's really annoying when my eyelashes are falling into my eyes all day. I get one, and trying to get it out more fall in," Ty said with a rueful smile.
Ty, who wants to be a pediatric neurosurgeon, has some other goals.
"I look forward to being normal, like I was before," he said.
But, through it all, he said he has also learned a few things about himself.
"That's always good. I definitely learned my boundaries. Things I thought I could never do, I've learned I can. I don't take things for granted, that's for sure," Ty said.
He also learned a lot about compassion. Ty likes to donate things and give gift cards and stuffed animals, his father said.
Ty said he is looking forward to seeing his white cell count up in December, and if all goes well, having his medical port, a small medical device beneath the skin through which drugs can be injected and blood samples drawn, removed in January.
He has received his inpatient treatment at Akron Children's Hospital in Akron; and outpatient treatments have been at Akron Children's in Boardman.
Ty's personal life is starting to look up, and so is his medical condition.
The cancer had not spread, which makes the prognosis good, said Dr. Rush. And at his last MRI, he was clear of cancer, she said.
"I'll miss the people, but I definitely won't miss the hospitals," Ty said.