Thieves beware: Pawnbrokers will report you to police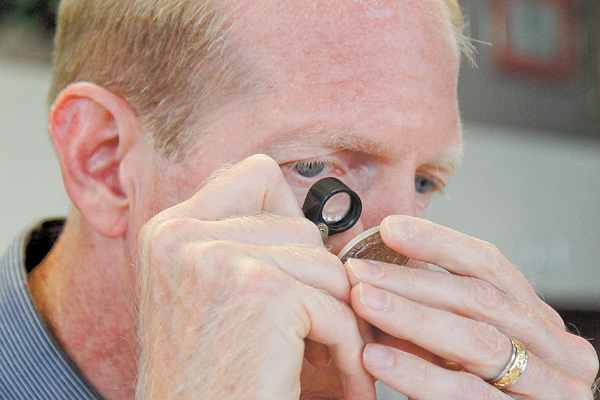 ---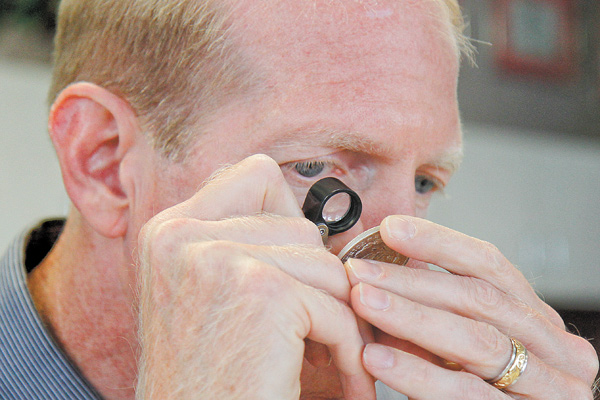 Photo
Jim Eckman, president of Ace Diamond & Jewelry Brokers Inc. of Boardman, inspects silver dollars Ace bought recently. Eckman said pawnbrokers and police work together to quickly catch thieves who sell or pawn stolen goods.
By PETER H. MILLIKEN
milliken@vindy.com
AUSTINTOWN
When it comes to catching the crooks, pawnbrokers and police are on the same team, a Boardman pawnbroker said.
"They seem to have a lot of chemistry," Jim
Eckman, president of Ace Diamond & Jewelry Brokers Inc., said of the relationship between Mahoning Valley pawnbrokers and police.

The ability of pawnbrokers and police to work quickly together has improved in the electronic age because police can email at once to a host of local pawnbrokers and coin and jewelry buyers a list and description of stolen items or burglary suspects police are seeking, Eckman said.
Eckman and other local pawnbrokers conducted a Wednesday presentation at the Regency House Banquet Center concerning "Law Enforcement and the Mahoning Valley's Pawnbrokers." About 60 local police officers and chiefs and prosecutors
attended.
A pawnbroker who has stolen items in his shop can fax to a detective the timed and dated transaction sheets on which he recorded identifying
information from the driver's license of the person pawning or selling the items, Eckman explained.
Ohio law requires pawnbrokers to record complete identifying information from the driver's license of anyone selling or pawning any item and keep transaction records for two years.
The law also requires the pawnbroker to retain any item for at least 30 days after he received it if police ask him to do so, said Brian S. Landis, chief examiner for consumer finance at the Ohio Department of Commerce, division of financial institutions, who was one of the program presenters.
"We actually have a very good working rapport with the police departments," said Robert Carney, president of Austintown Pawn Inc. "We've had police holds up there that are still on hold for six months waiting for the case to be disposed of," he said of his pawn shop.
In the electronic age, the pawnbroker can email
photos of stolen goods to
police, instead of police having to visit the shop to photograph them, he observed.
Detective Patrick Mondora of the Mahoning County Sheriff's Office said checking pawn-shop records is much easier in the computer age than in earlier times when pawnbrokers would have to laboriously search sketchier paper records. "Now, it's just a matter of minutes" to conduct a records search, he said.
Eckman observed that it should be no surprise to someone who stole something from the host while attending a Friday night party and pawned it the following day, that the person is under arrest early the following week. "How do you squirm out of that?" trail of evidence, he added.
"It's so easy to prosecute. They're getting the case on a silver platter," Eckman said of police and prosecutors who are assisted by pawnbrokers.
Don Humphrey Jr., an assistant Columbiana County prosecutor, said, however, the prosecution must still be prepared to meet its burden of proof.
"It's not just a question of proving somebody was in possession of stolen property. We've got to prove that they knew, or had reasonable cause to believe, it was stolen," Humphrey said.
There are 326 pawnbrokers in Ohio, including nine in Mahoning County, five in Trumbull County and three in Columbiana County. All Ohio pawnbrokers must have a state license, Landis said.