Kairos Prison Ministry offers short course in Christianity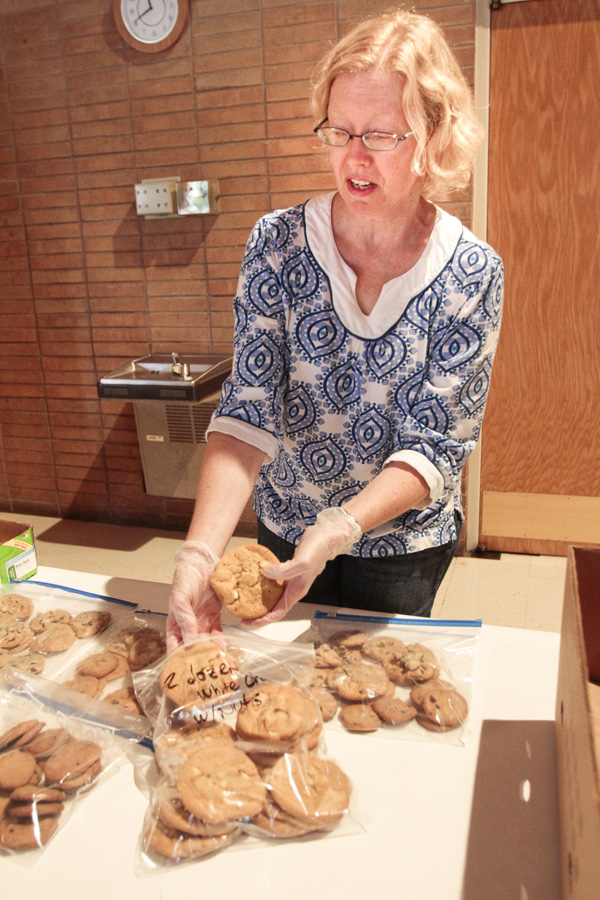 ---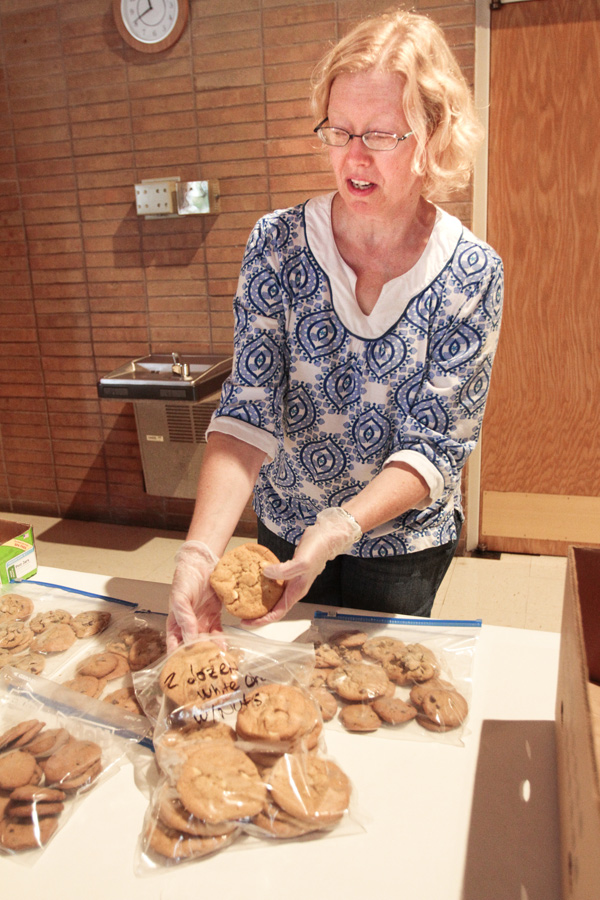 Photo
Anita Carson, a member of Boardman United Methodist Church, packages cookies in plastic bags that her husband, Craig, will take to Trumbull Correctional Institution on the Kairos Prison Ministry program this weekend. The cookies will go to inmates and staff at the prison in Leavittsburg.
Kairos offers short course in Christianity
By LINDA M. LINONIS
boardman
Some people pass by prisons as they go about their lives, probably never giving any thought to the inmates and staff behind the walls.
Those involved in the Kairos Prison Ministry not only pray for the inmates and staff, they visit correctional facilities to give a short course in Christianity and take hundreds of dozens of homemade cookies to share.
Tonight through Sunday, ministry members will be at Trumbull Correctional Institution in Warren. Craig Carson, praise-team director at Boardman United Methodist Church and choir director at Austintown Fitch High School, will be among them.
His path to the Kairos Prison Ministry began with the Walk to Emmaus, which is described as "an experience of Christian spiritual renewal and formation" on the website, www.emmaus.upperroom.org. "I was invited to the program. It takes your faith to a different level," Carson said.
After that experience, he said he received a call about volunteering in Kairos Prison Ministry. "It's about trying to show the love of Jesus," Carson said.
Tonight, 44 team members — clergy and laity — representing 40 churches of various denominations in Northeast Ohio, will be at TCI. They will meet between 24 and 42 inmates, who are called residents for the weekend. The prison chaplain screens potential participants. Team members do not stay in the prison, but come and go as a group during the weekend.
Carson said the initial meeting is a casual gathering where "they get to know one another." Friday and
Saturday are more intense, as residents and team members are divided into small groups, each with a pastor and laity. Fifteen talks during the weekend focus on spiritual topics, Carson said, focusing on learning about Jesus Christ and participating in devotions.
Carson said discussion doesn't involve why residents are incarcerated. "We try to focus on everyone's self-worth and the future," he said. He said some may have been brought up in a church and some not; the weekend is about acquainting them with the message of Jesus.
Carson believes the music is uplifting for all. The music ranges from traditional hymns to modern praise songs.
He said Sunday's closing program is powerful; many residents offer testimony and what the experience has meant to them.
Ron Ambrosia of Hiram, formerly of Youngstown, is team director and has been involved 10 years. "We want to be a source of encouragement," he said. Talks on Christianity and the standard of living that Jesus preached about, Ambrosia said, are a "way for the men to learn about a life of accountability and new ways of behavior and thinking."
He said Kairos is unique because it provides follow-up to the weekend with pray-and-share events scheduled at the facilities.
A component of the weekend is the hundreds of dozens of homemade cookies that are taken into the facility for staff and inmates.
Carson's wife, Anita, also a member of Boardman UMC, recently organized cookie baking at the church as preparation for the Kairos weekend. She also has participated in the Walk to Emmaus.
Kairos members take the homemade cookies into TCI, where residents involved in the weekend get them. They are told to give cookies to someone they wronged or who wronged them, Anita Carson said. The cookie giveaway, she said, is a "way to feel God's love."