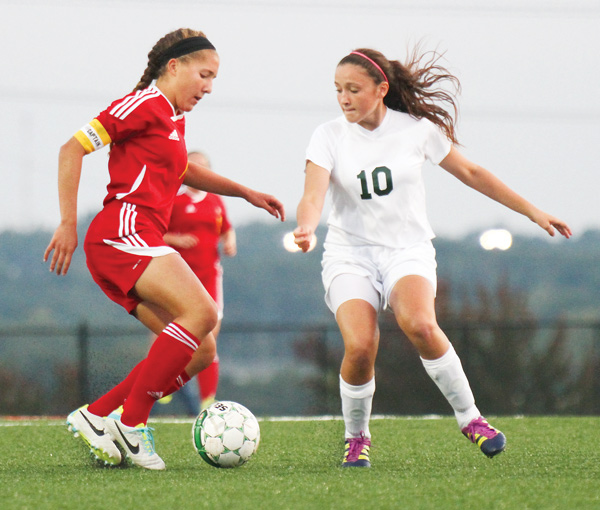 ---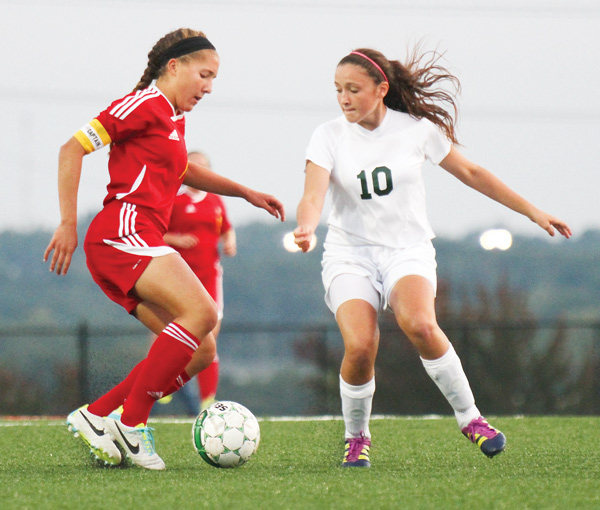 Photo
Mooney's Juliana Vazquez, left, and Ursuline's Kali Kerpelis battle for possession of the ball during a soccer match Wednesday at Youngstown State Univerity. The Cardinals shut out the Irish, 7-0.
Mooney picks up the pace, speeds to rout of Ursuline
By Steve wilaj
sports @vindy.com
YOUNGSTOWN
Taking some bumps and bruises through its first eight games, the Cardinal Mooney High girls soccer team lost six of those contests, many coming against some of the top teams in the state.
Those losses didn't come without valuable lessons learned.
"Playing those tough teams definitely helps us to know what it's like to play at a faster pace," junior Julie Vazquez said. "That helps to transfer into these other games where we can score more goals."
For instance, Wednesday's matchup against Ursuline. The Cardinals seemingly played at a faster pace all game, easily defeating the Irish, 7-0, at Youngstown State's Farmers National Bank Field.
"Those first games helped us learn how to shift our defense faster and get used to one-on-one defending and covering the outside," Vazquez said. "I think it showed tonight."
Mooney (3-6) got on the board in the 23rd minute when Vazquez found the back of the net. She then scored three minutes later to put the Cardinals up 2-0 at halftime.
"We were slow in the beginning but then we realized that we needed to pick it up," Mooney's Taylor Sikich said. "They were pressuring us pretty good, so we started to anticipate their movements and began to split balls through and over the top so our forwards could finish."
They did just that with five second half goals. Sikich, Liz Phillibin, Brooke Overly and Lexie Herman each recorded a goal.
"It seems like when we come out of the halftime talk, we've really been able to execute," Cardinals coach Frank Sikich said. "We get teams to play at our pace. We need to be able to do that from the start, but we're working on it."
Vazquez reached the hat trick in the 70th minute when she scored her third goal of the game.
"I try to feed off the defenders movement and force them to the opposite side where I really want to go," she said. "My teammates really helped because they fed me the balls through and saw the passes and I pretty much just finished. But they did all the work before."
The Irish (3-6) lost three starters to injury throughout the match.
"It makes it difficult when you're dragging one after another off," Ursuline coach Roy Schmidt said. "But we played through it and that's what you're supposed to do and the young kids did fairly well."
Schmidt added he expects his team to get healthy soon.
"The potential is wonderful," he said. "We just got a few kids back and we'll be getting our goalkeeper back from a broken arm. It's all about how healthy you are going into the running and we should be pretty healthy."
Meanwhile, Mooney just wants to keep the momentum of its two-game winning streak going.
"We're getting it together," Taylor Sikich said. "We really weren't all on the same page early — our defense was good but we could not finish the ball. But now our offense is coming around, too."
More like this from vindy.com