Gardening can help you as you age A healthy hobby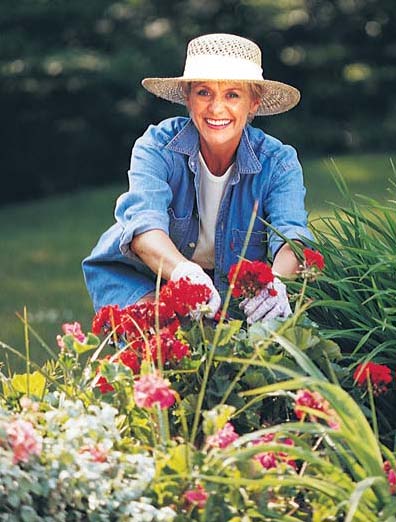 ---
By MARILYN McKINLEY
OSU Ext. master gardener volunteer
Gardening is popular worldwide. Working in the garden reminds us of our childhood and gives us a sense of accomplishment as we pick the flowers and enjoy the vegetables.
As we mature, however, gardening can become challenging. But there are many ways senior citizens can adapt and remain active gardeners.
Gardening is a wonderful hobby, and it is an enjoyable form of exercise. It enhances strength, endurance, mobility, and is good exercise for the brain, too.
Gardening gives all muscles and joints a bit of a workout and can ward off or reduce conditions that occur due to lack of exercise and movement. It provides an outstanding reason to get outside and enjoy the wonders of nature.
Fresh produce from your garden is fresher and healthier. Finding a fellow gardener to work with is easy, and group garden activities can provide a good social outlet.
Here are a few hints that can make gardening a bit gentler for aging bones and muscles.
You can grow almost anything in a container. Putting it on wheels makes it even easier.
Grow vertically, on a fence, a trellis, even a wall.
Plant close to the front and back doors.
Grow herbs. They are easy, adapt to containers well, and smell wonderful. Try something new. Use more herbs when cooking.
Raised beds are wonderful. They can even be adapted to accommodate wheelchairs.
Purchase tools specifically designed for the "mature" crowd.
If tools make your hands ache, try attaching comfortable grips or foam insulation.
Make sure you have a shady retreat. If you don't have a big tree, make a portable shady spot using an umbrella and a chair.
Place stools along garden paths.
Use knee pads.
Get a garden caddy.
Brightly painted tool handles are easier to find.
Rethink your watering techniques. Get smaller watering cans or a sprinkler hose. You can even water plants by dipping sponges in water and squeezing the water onto the soil.
Plant more seeds, it's cheaper. Better yet save seeds or exchange seeds with a fellow gardener.
If at all possible do not garden alone. At least be within shouting distance of someone who can help. Carrying a cellphone or a whistle is a good idea.
Do your homework. Be sure you know what to expect from the plants you put in to your garden.
To learn more about the health benefits of gardening, go to go.osu.edu/gardenexercise.
More like this from vindy.com