YSU hosting Duquesne on Saturday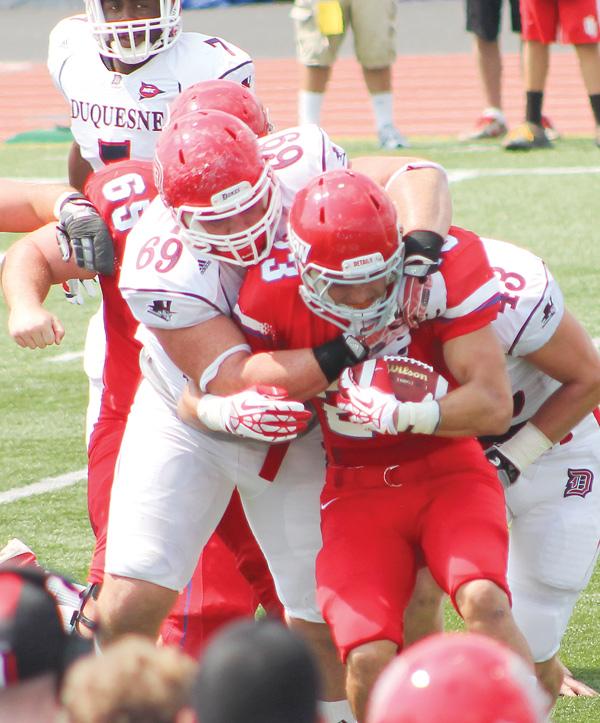 ---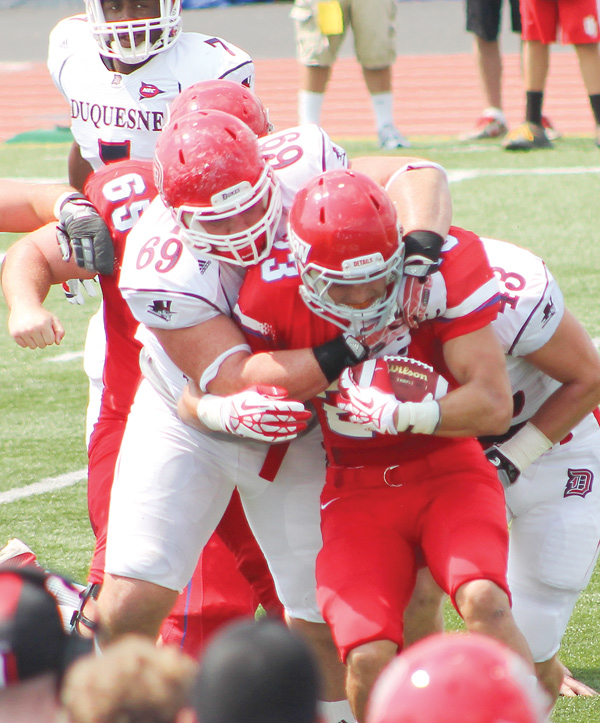 Photo
For the first time in school history, Youngstown State will take on the Dukes of Duquesne University — its nearest FCS neighbor — which boasts two Valley natives on the roster: Poland's E.J. Kosec and Boardman's Zach Zidian (69), above.
By Joe Scalzo
Junior safety E.J. Kosec said Duquesne's football team tries to treat every game like it's going against a faceless opponent.
It's a little harder this week.
"It's Youngstown," said Kosec, a Poland High graduate. "It's hard to look at it as a regular game."
For the first time in school history, Youngstown State will play its closest FCS neighbor in what the Penguins are treating as a tune-up for the conference season and the Dukes are treating as a chance to show they can compete with full-scholarship FCS teams.
"They're probably the only ranked team we're going to play from the FCS, so it's a big game for all of us," said sophomore DT Zach Zidian, a Boardman High graduate. "We want to prove Duquesne is able to compete with the best FCS schools."
Duquesne, a private school in Pittsburgh, only began offering athletic scholarships six years ago when it moved from the Metro Atlantic Athletic Conference to the Northeast Conference.
The Dukes started with 18 scholarships in 2008 and are now up to 35. That's 28 below the FCS limit (and five below the Northeast limit) but since they can split up the athletic scholarships and supplement them with academic scholarships and need-based grants, the number of players getting free tuition is much higher.
"Each year, more talent is coming in," said Kosec, who has experienced that firsthand since he is battling University of Florida transfer Chris Johnson for a starting safety spot. "Each year, it's one step forward. But we feel like whether we have 63 or 40 or no scholarships, you can't teach aggressiveness and hard work and that's what we bring with us.
"One thing I've noticed is in college football, on any given Sunday, any team can win. It's a really level playing field."
YSU offensive line coach Carmen Bricillo, a Duquesne graduate, tried to recruit Zidian to play center for the Penguins but Zidian (6-1, 315) said he wanted to play on the defensive line.
"I always thought I was more athletic than just being on the offensive line," Zidian said. "I like to get after it. I like to attack people and make plays."
Zidian started the last 10 games last season for the Dukes, recording 39 tackles with two forced fumbles. He's made six tackles in two games this season, including one for a loss.
"Two years ago we won a conference championship and last year we went 5-6, which shouldn't happen," Zidian said. "We're building a lot of key pieces and we're a team on the rise."
Although he played more linebacker than safety at Poland, Kosec (6-0, 208) has stayed in the defensive backfield at Duquesne. He played in all 11 games in 2011, primarily on special teams, but played in just nine games last year as he battled a sprained knee.
He's made six tackles and broke up a pass in two games this season.
"The best thing about our defense is we have a lot of depth," Kosec said. "There's always a good player next you that you can trust and we have a good rotation going.
"Youngstown obviously has that blue-collar mentality and we've got a lot of guys from Western Pennsylvania and Northeast Ohio who have very similar qualities."
In addition to the geographic connection, Kosec said Saturday's game is special because his high school coach and mentor, Mark Brungard, won two national titles as YSU's quarterback in the mid-90s.
"There's a whole lot of personal things involved in this game," Kosec said. "But once we're in between the white lines, it's about playing football, reading my keys and doing what I've got to do to win."
Zidian agreed, saying he's prepared for a physical test against YSU's run-first offense.
"It's going to be a knockout fight," he said. "They're going to be swinging and we're going to be firing back.
"It's going to be a nose-bleeder.