Ex-treasurer Antonini will be sentenced in November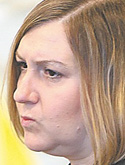 ---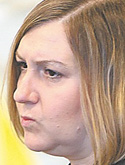 Photo
Staff report
AKRON
Former Mahoning County Treasurer Lisa Antonini will be sentenced in November on charges she underreported a campaign contribution by a local businessman in 2008.
A Tuesday judgment entry by Judge Sara Lioi of the U.S. Northern District of Ohio in Akron set 2 p.m. Nov. 13 as the date she will sentence Antonini.
Antonini, also a former county Democratic Party chairwoman, entered a guilty plea to a bill of information in June 2011 to a count of honest-services mail fraud.
The plea agreement she entered into called for her full cooperation into any cases that her help was needed in by the federal government.
The fraud count contends a public officeholder devised a scheme to defraud citizens of their right to honest services through bribery and the concealment of material information.
Antonini couldn't be reached late Wednesday by The Vindicator to comment.
David Betras, who succeeded Antonini as head of the county Democratic Party, also declined to comment about her sentencing.
Antonini of Austintown has been free on bond since she entered her plea.
Sentencing options for Judge Lioi range from probation to 20 years in prison and a $250,000 fine.
Prosecutors did not recommend a sentence when she reached her plea agreement.
Antonini was charged with taking and failing to report a $3,000 cash contribution to her primary campaign for county treasurer Jan. 16, 2008, from a local businessman, while reporting only a $200 contribution he gave by check that day.
"In exchange, Antonini continued to support the businessman's interests and understood she would take official action on his behalf if opportunities arose," the information says.
Board of elections records show only Anthony M. Cafaro Sr., former president of the Cafaro Co., as a contributor of $200 by check that day to her campaign.
Cafaro has not been charged with any crime related to gifts to the Antonini campaign.