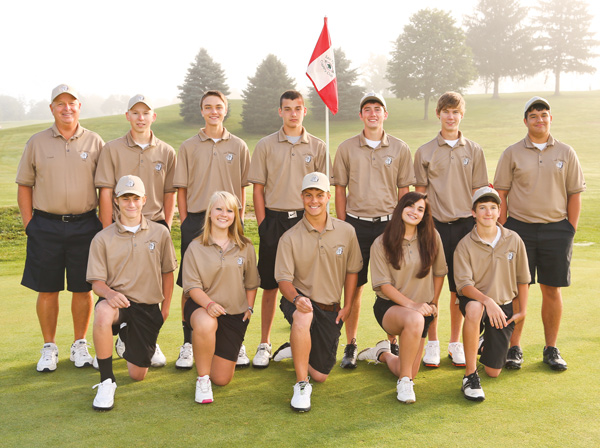 ---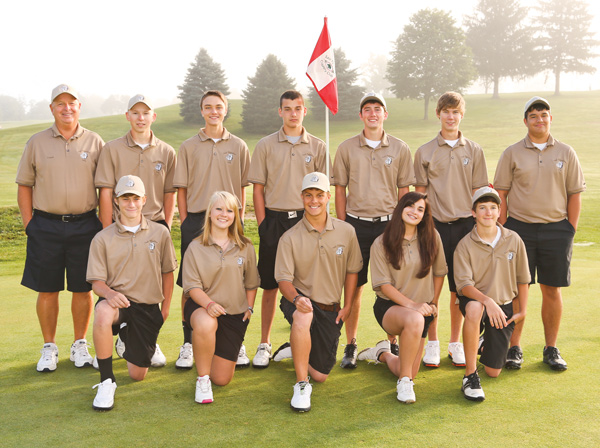 Photo
Members of the East Palestine High golf team are (front row from left) Marshall Huddleston, Cassandra Thorton, Andy Ellis, Miranda Velchek and Tom Dumbauld. In the back are Coach Bob Hall, Phil Gerner, Colin Reidy, Drew Wilson, Alec Dumbauld, Ryen Kemp and DJ Bandy.
By TIM CLEVELAND
EAST PALESTINE
While golf is an individual sport at the professional level, it is a team sport in high school and college. Scores for four golfers on a team are added up in an effort to finish with a lower score than the other team.
For the past two seasons, almost no team in the Mahoning Valley has been better at that than the East Palestine boys squad.
With a 153-167 victory on Sept. 12 over Southern Local at Beaver Meadows, the Bulldogs finished the regular season a perfect 17-0 and have won 32 of their last 33 matches.
The last loss came early last season, a two-stroke setback to Mineral Ridge.
Fourth-year coach Bob Hall said East Palestine is a team in every sense of the word.
"We really don't have one standout," Hall said. "On any given day, anyone could be the low man out of seven. Last year, we had six that were like that."
Senior Alec Dumbauld said that depth and consistency are the Bulldogs' strong suits.
"When we go out to play, I know we have seven guys who will play in a match so I know if I'm not playing well we have guys who will play well," Dumbauld said. "Everybody has about the same scores."
The Bulldogs are a pretty much veteran team, with seniors Drew Wilson and Dumbauld and juniors Phil Gerner, Ryen Kemp, D.J. Bandy and Andy Ellis. The other member is freshman Marshall Huddleston.
Hall was asked what has been the key to East Palestine's success over the past two seasons.
"Consistency and depth," Hall said. "We have seven players averaging 40 to 42 [strokes]. We don't have any so-called stars who are going to shoot even par.
"We have a great parental support — that helps a lot," Hall said. "They have a great attitude. They don't give up. They're a very determined bunch. They're a real team. No one individual stands out."
After last season's one-loss season, the Bulldogs made it to the Division III regional tournament at Seven Hills. They placed in the top 10 but failed to advance to state.
This season, East Palestine is in Division II, with the Inter-Tri County League tournament today at Pine Lakes and the sectional event on Sept. 24 at the Elms at Massillon.
Dumbauld and Hall were asked their expectations for the rest of the season.
"They're high," Hall said. "I think our consistency will help. There's a little bit of an unknown. There are some big schools in the Canton area I don't know much about. I think with consistency we can hang in there."
Dumbauld likes a change for this season.
"This year they have a new rule that you can play six people, which is good because I feel we have the six best golfers in the league," Dumbauld said. "At sectionals, we'd like to get further than we did last year.
"Going into it [the past two seasons], we've put in a lot of hard work. We've bonded as a team, playing together as a team and being friends."