Chief says evidence handling to be investigated in Brown case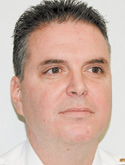 Photo
By Joe Gorman
Youngstown
Police Chief Rod Foley said an internal-affairs investigation is underway into how some evidence in a 2009 murder case that was dismissed may have been handled.
Foley said Tuesday he did not know some of the details Judge Maureen A. Sweeney had in her judgment dismissing a murder case against Paul Brown, 35.
On Monday, Judge Sweeney ruled in Mahoning County Common Pleas Court she was dismissing the charge against Brown in the May 2009 shooting death of 17-year-old Ashten Jackson because a card in Brown's cellphone that was taken by police the night he was arrested was switched with another, which rendered it impos- sible to retrieve a voice message that Brown's attorney said could clear him.
"We'll investigate the case from beginning to end," said Foley, who was not chief when Brown was arrested. "It seems like some of these questions could've been answered before the judgment entry. If we did something wrong, we'll take it on the chin and correct it."
In her entry dismissing the case, Judge Sweeney wrote that when prosecutors collected evidence to try Brown a second time, it was noticed the bag holding the cellphone had a broken seal and it was sealed back up with tape. Testimony at Brown's hearing to dismiss the case showed that when evidence is collected, it is put in a locker and the only person who has the key is the officer assigned to the department's record room who catalogs and stores evidence.
The detectives testified there is no way they can have access to evidence without the officer assigned to the record room getting it for them. There is a log book where they have to sign the evidence out.
Judge Sweeney said she found the fact the card was switched was "an act of conscious wrongdoing" and "extremely troubling."
Brown is in the middle of serving a 71-month federal prison sentence for the charge of being a felon in possession of a firearm that was levied against him in November 2009 because he had a gun on him when he was arrested in Jackson's death. He will continue to serve that sentence.
Foley said he had informal discussions with county prosecutors Monday to see if the case can be reopened or if Brown can be charged again. He said he especially hopes the case can still be pursued for the sake of Jackson's family.
County Prosecutor Paul Gains said his office also is exploring options and said if new evidence other than the cellphone is produced it may be possible to have Brown re-indicted. He urged anyone with information on the case to contact city police.