Longtime gardener grows banana trees on the West Side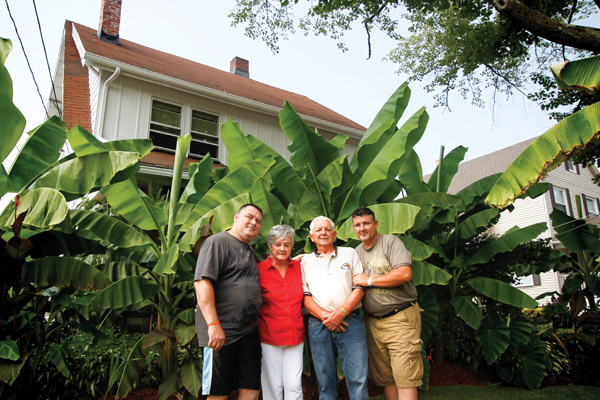 ---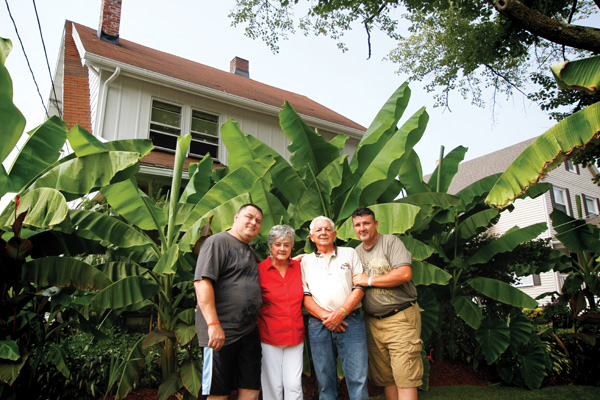 Photo
From left, Gregory, Sandy, Norman Sr. and Norman Jr. Cappitte pose in the front yard of their West Side Youngstown home with about 30 banana trees. Norman Sr., with the help of his wife and three sons, has been growing the trees for six seasons.
By Kalea Hall
Youngstown
Norman Cappitte Sr. just loves growing.
The master grower of peppers has won multiple awards for what he grows, thanks to his gardening skills.
So, growing banana trees in the front yard of his North Brockway home on the West Side sounded like an excellent plan for the 72-year-old.
"Hon, I am going to bring Florida to you," Norman said he told his wife when he decided to grow banana trees.
Now, the banana tree growing is in full swing, making Norman's home hidden by a tropical paradise of 15- to 20-foot banana trees — about 30 of them — and a range of other tropical plants, including gladiolus and elephant ears. The visible paradise has caused many neighbors and passers-by to ask questions.
"Dad's wisdom and what he is going to leave us with — we will be able to carry it with us the rest of our lives," Norman Cappitte Jr. said.
The banana growing all started when Norman Sr. decided six years ago to ask his friend to bring him back a root bulb for a banana tree.
What led the 30-year master pepper grower to even think about growing banana trees? The movie "Rambo," of course. The movie, set in Thailand, stars Sylvester Stallone, and banana trees often are viewed in the background. It depicted an atmosphere Norman Sr. just knew he had to bring here to Youngstown.
"I noticed our winters were getting milder every year, so I figured I had a shot at it," Norman Sr. said.
His friend brought him back a banana rhizome or banana bulb, and Norman Sr. went to work nurturing the plant to help it grow into the beautiful, tall tropical plant it is. He used fertilizer and light to help it grow, and before he knew it, there were more banana "pups" or bulbs to take and transplant.
The transplanting gave the Cappittes about 30 trees in the front yard, and he also was able to give his son Vincent Cappitte of Girard some banana trees to grow.
Norman Sr.'s family said he is outside working with his banana trees from the time the season starts in April until it ends in October.
"We call him the mad scientist," said Gregory Cappitte, Norman Sr.'s eldest son.
Norman Sr. has a logical method to help the banana trees flourish: potassium and some nitrogen.
"I feed them what they feed me and they love it," Norman Sr. said.
Despite the tender loving care Norman Sr. gives the banana trees, not one edible banana has been produced. But he will keep trying, though he knows a long eight months of hot tropical weather is what the trees would need to make bananas.
"Growing trees is one thing, but producing fruit is another," Norman Sr. said.
Although the work is hard to keep the tropic atmosphere going, Norman and his family are flattered by the compliments they receive from neighbors, especially neighbors who know exactly what the trees are because they grew up with them.
Norman Sr.'s wife even has taken a liking to the banana trees that take up her yard.
"I just love 'em," Sandy Cappitte said. "I just sit here and talk to them every day."
Soon it will be time for Norman Sr., with the help of his sons, to cut down the trees to about a foot and a half for the winter. But by next summer, the Cappitte's North Brockway home will once again become their own tropical paradise.
"There is nothing like the dirt," Norman Sr. said. "You don't have to have money to be rich."