Kuczek's kick lifts Boardman past Fitch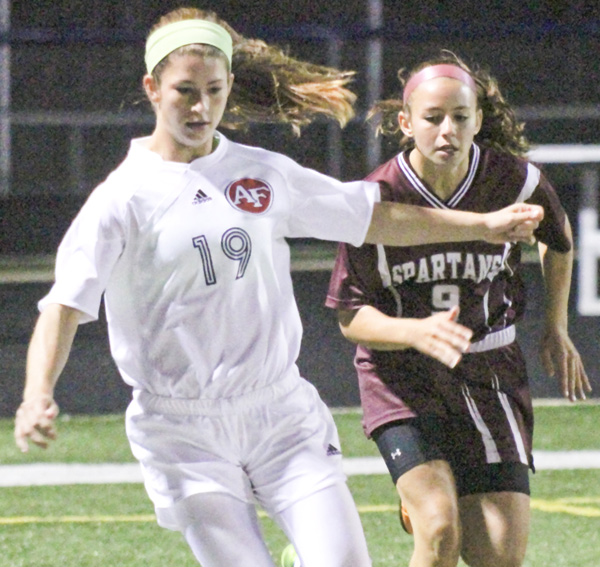 ---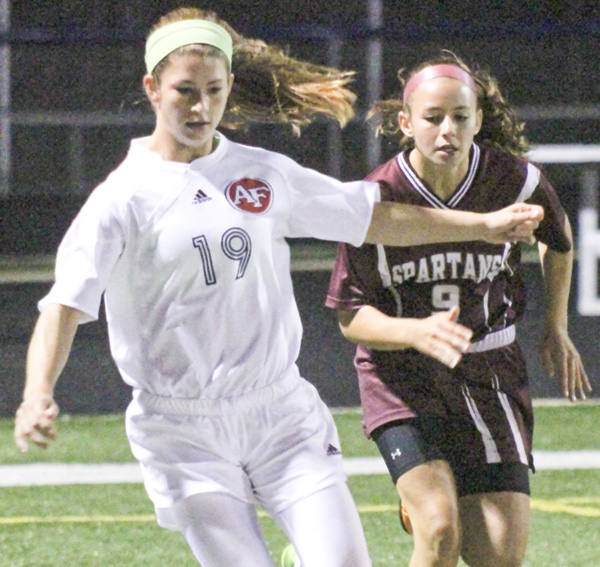 Photo
Fitch's Lauren Bower (19) moves the ball upfield as Boardman's Payton Bryant defends during Monday's game at Fitch High School.
By TIM CLEVELAND
AUSTINTOWN
Starting the season 1-4 with a four-game slide, the Boardman girls soccer team was facing an uphill battle. Since then, the Spartans have won four in a row to get over the .500 mark on the season, with a 2-1 victory Monday night over Austintown Fitch continuing the comeback.
"Earlier in the season they gave up a lot of goals, but now in the middle of the season after the four games [losing streak], we have good chemistry, tough defense, good goalkeeper, good midfield," Boardman coach Fawzi Mujahed said. "The forwards, they play hard."
Monday's victory was made even more impressive as the Spartans went the final 46:43 of the game with 10 players.
With 6:43 left in the first half and leading 1-0, Boardman's Bryana Flak was called for a handball in the box. The officials ruled her play prevented what would have been a Fitch goal and gave her a red card, putting her out not only the rest of Monday's game, but the next two contests for the Spartans.
"I think that should have been yellow card, not red card," Mujahed said. "He [the referee] said it was a scoring opportunity. It wasn't that. It was shot on the other side and hit her hand."
Fitch's Jayme Ritchie converted the subsequent penalty kick to tie the game.
"It was a shot on goal that was deemed to be a goal if she wouldn't have stuck her hand up," Fitch coach Tex Martin said.
Boardman (5-4) had an opportunity to take the lead early in the second half as Nikki Hillard was tripped in the box at 28:19. Alexis Cailor took the penalty but her shot went wide right.
The Spartans earned the game-winner with 16:51 to play as Jenna Kuczek took a free kick, with her shot looping high over leaping Fitch goalkeeper Andrea Precurato.
"This player, she just came back," Mujahed said. "This is the second game for her this season. She tore her ACL after basketball last year."
"That was a nice shot," Martin said. "Set up well to the right side, over the keeper's head. It was a nice shot. Well-deserved."
The Falcons had one final chance as Kimmy Muccio took a free kick with 7 minutes left that Boardman keeper Kristen Huck barely got a hand on to bat over the goal.
Fitch (1-6-2) has played much better than its record would indicate. Martin said the tough schedule the Falcons have played this season will pay dividends when the postseason comes around.
"We're definitely playing good and we're fighting until the end," Martin said. "I believe we dominated most of that game, especially with them playing a player short. We dominated, but they hung in there and got that second goal. They played tough defense."