Renowed artist shares her skills with other painters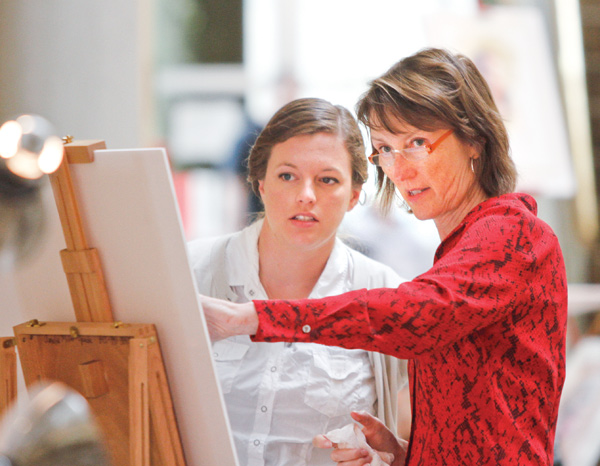 ---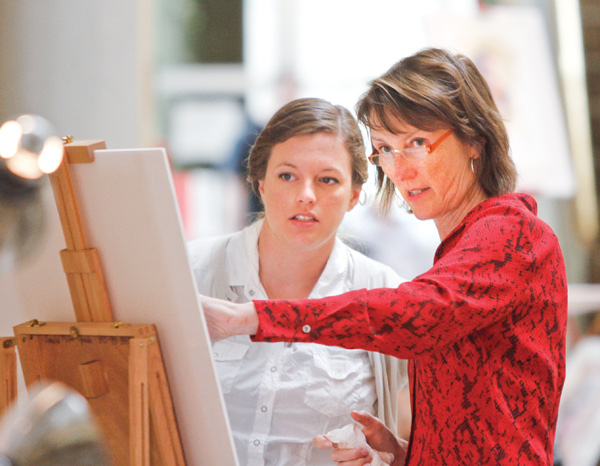 Photo
Mary Whyte shows Amelia Spade, from Montana, the effects of lighting on their subject during Whyte's workshop at The Butler Institute of American Art.
STORY & PHOTOS
YOUNGSTOWN
Mary Whyte, renowned water-color painter whose technique combines abstract design with exceptional detail, not only brought 20 of her favorite paintings to the Butler Institute of American Art on Wick Avenue for a show, but she also conducted a two-day, hands-on workshop.
Artists from all over the country spent time with Whyte in the art gallery's atrium as she helped them paint, learn techniques and improve their skills while using live subjects for models.
Whyte said she enjoys doing the workshops and helping other artists reach their maximum potential.
Dr. Lou Zona, the Butler's executive director and chief curator, said, "Whyte's work is nothing short of sensational. She is one of the greatest artistic talents of her generation. The Butler is thrilled to showcase these amazing paintings."
Whyte has gained national recognition for her figurative watercolors and is most noted for her depictions of the African-American Gullah women of Johns Island, S.C. In recent years, Whyte has turned her attention to paintings of Southern laborers.
Her show, which began Sept. 8, continues through Nov. 24 at the Butler.